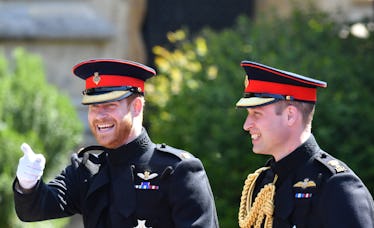 Fans Are Freaking Out Over Prince Harry's Facial Hair At The Royal Wedding
WPA Pool/Getty Images Entertainment/Getty Images
The moments before Prince Harry arrived at his wedding to Meghan Markle on May 19, thousands of people were speculating about what he would wear and how he would feel. But another major point of speculation? Facial hair! Thousands took to Twitter to discuss whether or not the Prince would shave his famous beard, and when he showed up beard in tow, these tweets about Prince Harry not shaving for his wedding made me literally think, "Yep."
Honestly, Harry looks great beard or sans beard, but there's something extra ~classy~ about a man who can rock clean cut facial hair. It was luscious, it was crisp, and it was befitting a prince! And I don't know about you, but I've gotten so used to seeing Harry with a beard that seeing him without one would've kind of thrown me off!
Turns out, shaving any facial hair is protocol for men when wearing any military garb, and as a member of the Army, that's what was expected of Harry. He served two tours in Afghanistan and rose to the rank of Captain, so naturally, you would think the beard would come off. But many were pleased to see him break away from tradition once again in keeping his signature beard.
According to an official statement from Kensington Palace, both Prince William and Prince Harry wore the "frockcoat uniform of the Blues and Royals," one of the oldest regiments of the U.K. and considered the "monarch's trusted guardians." It's a traditional military uniform made of blue doeskin, Time reports. The Queen actually gave Harry permission to don his uniform on his wedding day, so who knows, maybe she also gave him permission to not shave his beard. Prince William's uniform was almost exactly the same, with the only difference being the gold rope that, according to Time, is from the Regimental pattern and the Garter Star.
Prince Harry is no longer on active duty, Esquire reports, so maybe him holding onto his beard is really no big deal. Several other members of the royal family donned facial hair as well, including Zara Tindall's husband Mike Tindall, and Harry's cousin Peter Phillips, son of Princess Anne.
Several celebrity guests also donned beards, including George Clooney, David Beckham, James Corden, and Alexis Ohanian. Princes Charles and William, on the other hand, were clean-shaven as usual.
Last week, CBS This Morning co-hosts Gayle King and Norah O'Donnell made a bet on whether or not Harry would shave, so his facial hair (of all things) has been a topic of conversation for a hot minute. According to CBS, Entertainment Tonight's Kevin Frazier consulted Lucy Hume, an etiquette expert, on Harry's scruff, and she had guessed he would keep the beard. At the end of the day, Harry's had his beard the entire time he's been with Meghan. Hard to picture him shaving it on the day they become husband and wife.
But Harry's beard was far from the only break from tradition observed on the royal wedding day. Meghan walked herself down the aisle, meeting Prince Charles right before entering the Quire (the part of the church where the most important guests were seated). The wedding also featured a sermon by The Most Reverend Michael Curry, the first black presiding bishop of the Episcopalian church, and a performance of "Stand By Me" by an actual gospel choir. It was truly a groundbreaking moment for royal fanfare.
So kudos to Harry for killing it once again and for blessing us with his beautiful face. We love it, beard or no beard. (But definitely beard.)