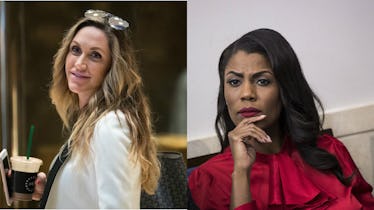 Twitter Is Calling Out This Detail In Omarosa's Latest Alleged Tape Release
Drew Angerer/Getty Images News/Getty Images & Drew Angerer/Getty Images News/Getty Images
I don't know about y'all, but it's looking like this whole "show the receipts" should be changed to "play the tapes." Former White House staffer Omarosa Manigault has released yet another alleged tape that she claims she secretly recorded, but there's a new Trump involved. These tweets about Lara Trump offering Omarosa a campaign job are totally calling this out.
On Thursday, Aug. 16, former White House Director of Communications for the Office of Public Liaison Omarosa Manigault released yet another alleged tape to MSNBC. Manigault appeared on the network that day and played the recording live, which involved Lara Trump, an adviser for Donald Trump's campaign, allegedly offering Manigault $15,000 to work on Donald Trump's campaign. According to Manigault, the recording allegedly took place in December 2017, around the same time the she was fired from the administration.
In the recording, Trump allegedly discusses Manigault's future salary after leaving the White House, and said that the $15,000 income would come from "small donors" to the campaign. She says,
And that all the money that we raise and that pays salaries is directly from donors, small-dollar donors for the most part. So, I know you, you were making 179 at the White House. And I think we can work something out where we keep you right along those lines. Specifically, let me see, I haven't even added up the numbers. But we were talking about, like, 15K a month. Let me see what that adds up to. Times 12. Yeah.
Shortly after on Aug. 16, Lara Trump released a statement to Elite Daily in response to Manigault's alleged tape. In her statement, she confirmed that she did offer Manigault a job for the Trump campaign after her firing, saying that the Trump family had a strong personal connection and that they "wanted her on [their] team because [they] cared so much about her personally," adding that the offer was made before they knew about the circumstances of Manigault's departure from the White House. The statement continued,
That's why I reached out to offer her a position with the 2020 Trump Campaign before we knew anything about the gross violations of ethics and integrity during her White House tenure. Another one of Omarosa's 'bombshell' tapes is a fraud. The discussions about a position with the campaign took place in numerous phone calls over the course of several weeks.
The statement added a personal element, as Trump noted that she had called Manigault a friend and she felt the release of the tape was a betrayal. It continued,
Woman to woman, I shared a connection with Omarosa as a friend and a campaign sister, and I am absolutely shocked and saddened by her betrayal and violation on a deeply personal level. I hope it's all worth it for you, Omarosa, because some things you just can't put a price on.
Once this alleged tape surfaced, Twitter naturally had some thoughts to share. Perhaps what stuck out most to everyone was Trump's comment about Manigault's salary coming from small-donor checks. It looks like Twitter has plenty to say.
Manigault released her first alleged tape on Aug. 12, which she claims she secretly recorded with White House Chief of Staff John Kelly in the very clandestine Situation Room. Since, the alleged tape was released, GOP members claimed that the former White House staffer might be facing criminal charges for claiming to record conversations in the Situation Room. However, it looks like Manigault won't be seeing any hard time soon, especially since nothing confidential was discussed during her and Kelly's conversation.
Day in and day out the Trump administration keeps getting curve balls thrown at them. We'll see how this new development pans out.