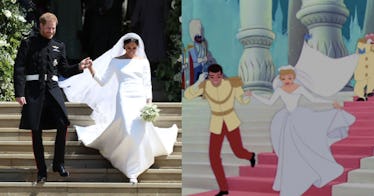 Twitter Is Comparing Meghan Markle To Cinderella Because Of This Photo & Wow
Getty + Disney
Many young girls grow up watching Disney movies dreaming about one day finding their own fairytale wedding. They dream about the spouse, venue, music, flowers, rings, and wonder what kind of dress they'd wear to walk down the aisle. Today, on May 19, Meghan Markle had her own fairytale wedding come true, by marrying Prince Harry, making them both officially the Duke and Duchess of Sussex. At the wedding, Meghan looked like Cinderella in a long-sleeved Givenchy wedding gown. An actual, true life fairytale with a princess gown to match.
Meghan's wedding dress, like every detail from the royal wedding, has attracted the attention of both fans and critics. While Twitter and general popular opinion is divided on a consensus for the dress, there seems to be a common theme: It looks like Cinderella's white gown from the animated 1950 Disney film.
Here are some of Twitter's reaction comparing Meghan's wedding gown to Cinderella's from the beloved animated film:
Meghan ending up choosing French fashion house Givenchy to create her wedding gown, designed by Clare Waight Keller, a Brit.
The gown is classic and timeless with a boatneck neckline. It cinches at Meghan's waist, and lacks any distracting embroidery or embellishments. Stunning floral details can be seen in Meghan's veil; each of the 53 states of the Commonwealth of Nations (formerly known as the British Commonwealth) has a representative flower embroidered on the veil. The long train at the bottom of Meghan's dress also is reminiscent of Cinderella's – and both definitely require a little looking after while walking, so as not to take any tumbles.
As Harry and Meghan stepped out of St George's Chapel at Windsor Castle, even the photo of them descending the staircase reads just like Prince Charming and Cinderella following their own wedding. In the photo, Harry held out his hand for Meghan, assisting her down the stairs so she wouldn't trip over her dress.
Meghan and Cinderella's dresses do differ, though, in the neckline and sleeve length. They both reveal a tiny bit of skin up top, but Meghan's Givenchy dress cuts straight across, whereas Cinderella's features more of a pointed V-neck. Meghan's dress has a three-quarter sleeve, and Cinderella's has a full sleeve that extends to her wrist. The two wear their hair tied up in a bun, although Meghan's makeup is much more of a natural look than Cinderella's — the animated princess rocks a bold, red lip, whereas Meghan opted for a neutral lip and light makeup that let her freckles shine through. And while Cinderella is a princess, Meghan is technically now the Duchess of Sussex.
Meghan's similarities with Cinderella don't end with the dress. Their narratives are also alike. Both women are so-called "commoners" who found their happily-ever-afters with royals, all while navigating complicated relationships with step-sisters and half-sisters. I'm sure Meghan wasn't intentionally leaning into the Cinderella references, but hey, living out a Disney princess movie doesn't seem all that bad.
What Harry and Meghan have shown us thus far is that true love wins. Even if — unlike Cinderella — you're an American, half-black, divorced woman, you deserve your own fairytale, too. Harry and Meghan left their gorgeous wedding ceremony to sit in a horse-drawn carriage, riding through Windsor for the first time as a married couple. The pair waved hello to thousands of adoring people in the streets, who flew in from several countries to get a glimpse at the real-life fairytale royal couple, as well as many more watching live from their homes around the world. You know how this all ends... And they lived happily ever after.