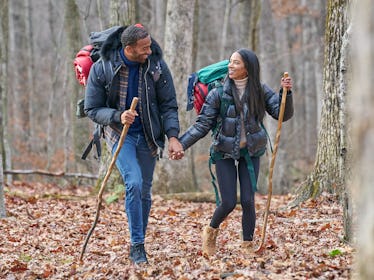 Twitter Is Comparing 1 Of Matt's Fantasy Suites To This Iconic 'Schitt's Creek' Scene
ABC
Fantasy Suites week is one of the most highly anticipated episodes of any Bachelor or Bachelorette installment, and Matt James' season is no different. But because Season 25 was filmed solely at a resort (as opposed to all around the globe like most seasons), producers had to get pretty creative when it came time to plan the overnight dates. Instead of just throwing each contestant into fancy hotel rooms, they decided to really change up the dynamics for each contestant, resulting in some, um, interesting date activities. If the tweets about Matt's Bachelor fantasy suite dates are any indication, fans think the twists are pure television gold.
With three contestants left vying for Matt's heart, tensions were clearly high in the March 8 episode, especially when it came to overnight dates. Rachael Kirkconnell, Bri Springs, and Michelle Young were the final women left, and despite being at the same resort for the entire episode, fans noticed they each had very different dates.
First to spend the night with Matt was Michelle. For their date, the couple had a "Pennsylvania Dutch spa day," complete with a milk bath, oatmeal foot soak, and some sort of massage during which they rubbed butter all over each other. It was equal parts romantic and bizarre, with some fans quick to point out the similarities between their date activities and the antics portrayed in fan-fave comedies Schitt's Creek and The Office.
After the couple spent the night together, Michelle rejoined the remaining contestants and Bri went off to meet Matt. Instead of a luxe spa day, however, the pair hiked through the woods and relaxed in a tent. Luckily for Bri (who admitted she was not the outdoorsy type), Matt said they weren't actually going to sleep in the forest, and they shared a room together at the resort for the nighttime portion of the date. The next morning as Bri and Matt made breakfast together, fans noticed how they used a lot of butter...
Last to get a date was Rachael, who had a tough time seeing the other two women go on overnight dates with Matt, to say the least.
Once Rachael got past her discomfort over Matt being the Bachelor and therefore spending time with other women, she brightened up and was able to enjoy the rest of their date, which included a pottery class and a fireworks display. Many fans pointed out that Rachael seemed to get the best — or at least, most normal — date of the three.
By the end of the Fantasy Suites episode, Bri was sent home and only Michelle and Rachael remained for the finale. See how the season ends when The Bachelor's finale airs on ABC on Monday, March 15, at 8 p.m. ET.