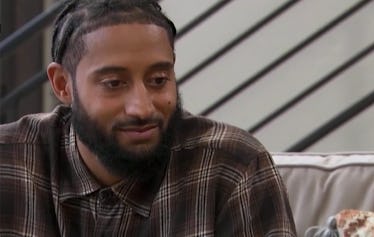 Twitter Is Thirsty AF After Seeing Matt James' Brother On 'The Bachelor'
ABC
Matt James' Bachelor finale may go down as one of the most dramatic endings in franchise history, but his brother John nearly stole the spotlight. During the March 15 episode, Matt introduced the final two women to his family before potentially choosing his future wife. Many viewers were taken with the other James sibling, and these tweets about Matt James' brother, John, are so thirsty.
One of the most important parts of every Bachelor finale is the lead introducing their final contestants to their family, and Matt was keen to hear his family's thoughts. Bachelor Nation has been introduced to plenty of memorable family members over the years (hi, Barb), but fans were particularly into John James (and not just because he looks basically identical to Matt). The other James brother seemed genuinely invested in Matt's new relationships, pulling both Michelle Young and Rachael Kirkconnell aside for some vibe checks.
He wasn't afraid to show off some serious interview skills, asking the women everything from how many serious relationships they'd been in to what future husband qualities they saw in Matt.
While John proved he's amazing brother material onscreen, he gained plenty of new fans during the finale, who loved his presence on the show and were more than a little thirsty on social media.
John was a fan-fave of the night, but he was also a rock for Matt to lean on during his rocky final days as Bachelor. He let his brother know he approved of both Michelle (who, he thought seemed like she was in "a good place" with Matt) and Rachael (who he noticed had an especially strong connection with his brother).
And while Matt's mom, Patty, warned him that "love is not the end-all, be-all," John urged his brother to make the best decision for himself. "Matt, you already know I support you in everything that you do. So whatever you decide to do, I'm on board," he said after meeting the women. "But don't feel like you have to jump into making a decision where you're not ready."
Matt's time as Bachelor may have come to an end, but if John ever wanted to show up on a season of Bachelor in Paradise someday, I am so here for it.