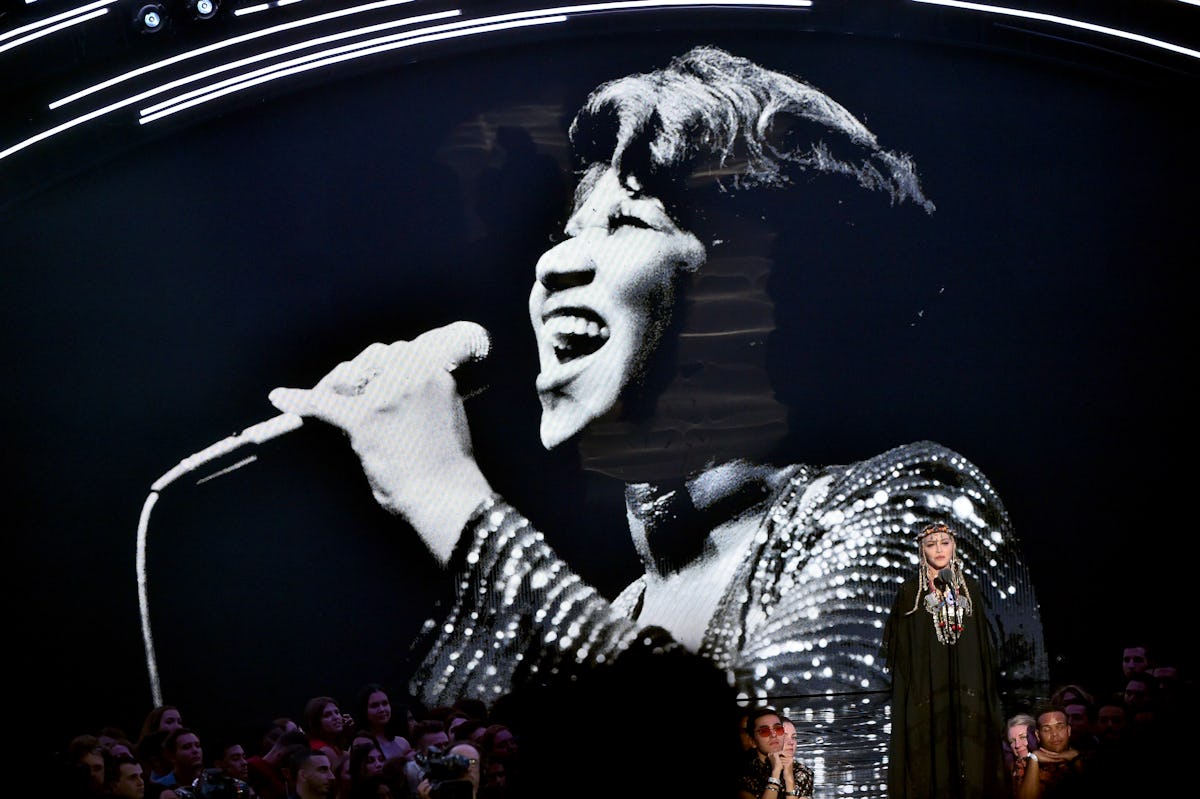 People Are SO Pissed Over Madonna's "Tribute" To Aretha Franklin At The VMAs
Theo Wargo/Getty Images Entertainment/Getty Images
The world is still reeling from the death of legendary singer Aretha Franklin, who passed away on Aug. 16, 2018 at the age of 76. The outpouring of love from the entertainment industry has been overwhelming over the past week and MTV showed their admiration for the icon on one of music's biggest nights, the Video Music Awards. After airing a clip of Aretha performing "I Say a Little Prayer," which earned a standing ovation from the audience, Madonna stepped on stage to share her own story about the late Franklin. But let's just say the reaction to her anecdote was mixed. Tweets about Madonna's Aretha Franklin tribute at the VMAs aren't exactly glowing. In fact, many viewers don't seem pleased at all.
"Aretha Marie Franklin changed the course of my life," Madonna told the Radio City crowd, prior to telling a tale from the beginning of her esteemed career. When Madonna was just starting out, she apparently went on an audition that could make or break her professional life, but unfortunately... she forgot to bring sheet music. Turns out — she didn't need it. "Fortunately, one of my favorite albums was Lady Soul by Aretha Franklin," Madonna said, explaining that she didn't need the sheet music because she "knew every word."
"I want to thank you, Aretha, for empowering all of us. R.E.S.P.E.C.T. Long live the queen," Madonna ended her personal speech. But was it too personal?
Aretha Franklin, dubbed the "Queen of Soul," passed away due to advanced pancreatic cancer Thursday morning at her home in Detroit, according to TMZ.
"In one of the darkest moments of our lives, we are not able to find the appropriate words to express the pain in our heart. We have lost the matriarch and rock of our family. The love she had for her children, grandchildren, nieces, nephews, and cousins knew no bounds," Franklin's family said in a statement following the news.
Franklin, known for masterpiece hits like "Respect" and "I Say A Little Prayer" undoubtedly had a tremendous impact on musicians that followed in her footsteps, including artists that are topping the charts right now. Jennifer Lopez, a recipient of the VMAs 2018 Video Vanguard Award, explained Franklin's influence while speaking with The Today Show on Aug. 20. The superstar explained:
She was the pinnacle of what it was to be a singer that sang with feeling and range and grit, soul... everything about her voice was just amazing. I read something about she had said it was a gift from God, and she was just using her gift to the best of her abilities and that that made her happy and it resonated with me, because it's what all entertainers feel.
VMA nominee Ariana Grande, who appeared on The Tonight Show to promote the release of her new album Sweetener, honored Franklin with a cold open performance of "(You Make Me Feel Like) a Natural Woman" on Aug. 16. The powerful rendition wasn't the only nod to Aretha — she and Jimmy Fallon traded anecdotes about the late star.
"I met her a few times. We sang at the White House and she was so sweet and she was like so cute and I was like, 'How are you a real person?' No, it's an honor to have met her and we're going to celebrate her," Grande recalled to Jimmy. Grande continued, "She called me one time. It was one time only, she called me and she goes, 'Hi, it's Aretha.' I'm like, 'Frankin?'"
The entertainment industry is bound to continue to commemorate and celebrate Aretha's life in time following her death. Her legacy will certainly live on through memories and song, whether the tributes live up to it or not.