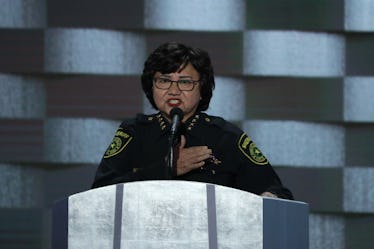 Lupe Valdez's Loss In The Texas Governor Race Has Everyone Thinking Of This Candidate
Alex Wong/Getty Images News/Getty Images
Democrat Lupe Valdez's bid for governor of Texas ended on Nov. 6, when Republican incumbent Gov. Greg Abbott secured the governor's seat in a stunning upset. The reaction to her loss was swift, with many people taking to social media to express their thoughts. And a lot of people immediately thought about another Texas candidate, because these tweets about Lupe Valdez losing the Texas governor race are all bringing up Beto O'Rourke.
Shortly after 9 p.m. ET, both CNN and The New York Times called the race for Valdez's opponent, incumbent Gov. Greg Abbot. Valdez was was the first openly LGBTQ+ Latina woman to top a ticket in Texas, and would have made history had she won. Valdez is also the first openly gay, Hispanic sheriff in the country. However, she was also a contentious figure who had been criticized for her office's handling of prisoner rights.
But with Valdez's race being one of the first called on election night, a lot of people were still thinking of other races that night — namely, that of high-profile Democrat Beto O'Rourke, who challenged incumbent Sen. Ted Cruz for his seat in the U.S. Senate in a competitive race. A lot of people thought that Valdez hadn't gotten the attention that O'Rourke had, and were not happy.
O'Rourke, the Democratic challenger for Cruz's Senate seat, emerged as a star of the 2018 midterms, drawing attention for everything from his viral defense of NFL players' protests during the national anthem, to the GOP's weird "attack" ads that many thought made O'Rourke look more appealing.
However, Valdez has drawn significant criticism for her office's handling of prisoner deaths and injuries. Per The New York Times, the jail she oversaw was accused of multiple civil rights violations in a lawsuit by the Department of Justice, and she was criticized for allowing Immigration and Customs Enforcement (ICE) agents to detain Dallas County prisoners for deportation.
According to NBC News affiliate KXAN, some of Valdez's initiatives included creating a new infrastructure plan, imposing tighter gun control measures, tackling the wage gap between men and women, and pushing Congress to pass comprehensive immigration reform with a pathway to citizenship. Meanwhile, Abbott's initiatives include imposing measures to secure the United States' southern border, reforming public education funding, and limiting abortion procedures. He opposed issues like restricting access to certain firearms and the expansion of Medicaid, per KXAN.
The odds were seemingly already stacked against Valdez, as Texas is historically a red state, which hasn't voted a Democrat into office since 1994 and supported President Donald Trump in the 2016 election by nearly 10 percentage points.
While she might have lost the race, Valdez still made history. She's the first Latina and LGBTQ-identifying person to run for Texas governor in the state's history. She's got quite the resume, is what I'm saying — even though this election might not have worked out in her favor, so that's always something to take pride in. And besides, who knows what the future holds for her.