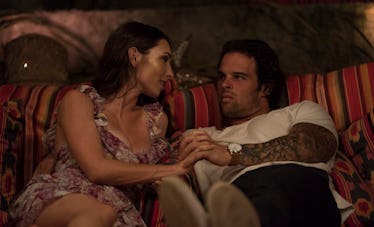 Kevin & Astrid's Breakup On 'Paradise' Made Bachelor Nation Lose Faith In Love
ABC/PAUL HEBERT
I have to be honest, Kevin and Astrid have been my favorite couple on Bachelor in Paradise by far. They've always seemed to be on the same page and there was something about them that just made total sense. Plus, they were so, so sweet to one another throughout the season. So, imagine my surprise when they decided to call it quits seemingly out of nowhere. I'm not the only one whose jaw hit the floor when that little revelation aired during the Sept. 10 episode of Bachelor in Paradise. In fact, so many fans were flabbergasted that one of paradise's strongest couples decided to part ways. And these tweets about Kevin and Astrid's breakup are solid proof of everyone's shock over the situation.
In recent episodes of Bachelor in Paradise, it seemed like an engagement was a sure thing for Kevin and Astrid. They've been seen on multiple occasions professing their burgeoning love for one another. Not to mention, they haven't been able to keep their hands off each other.
Even in this episode, Kevin was expressing his love for Astrid.
"So I've never had a woman once tell me she loved me without returning it and I loved that you said that to me because it made me feel really good," he told her.
Naturally, fans were taken by complete surprise when Kevin and Astrid, arguably the show's strongest couple, chose to call it quits. The breakup happened right when the show was in the thick of the drama. Tia and Colton left suddenly last week and Shushanna came in to stir a whole lot of trouble for Anneliese and Kamil. So, with all of that going on, fans were definitely not expecting Kevin and Astrid, who have been relatively drama-free, to just... end their relationship.
So, what caused this cute couple to break up? It had everything to do with Kevin fearing a night in the Fantasy Suite. In his mind, spending a night alone with Astrid might cause more doubt than he's ever had before. And he's afraid to let the relationship sour.
"I feel like we are miles ahead of everyone upstairs. Everyone knows I have never felt this way in terms of easiness," Kevin told Astrid. "I think when it comes to these fantasy suites, the potential of picking out a ring tomorrow morning when you leave. When I went into the fantasy suite the first time, I came out with more doubt than I went in with. The second time in Vermont, I went in with Ashley when I shouldn't have gone in at all."
Astrid was not expecting to be broken up with.
"The one thing I asked you not to do is blindside me, not to do this at the very end," Astrid told him in response. "I can't process what's happening right now. I just need to get out of here. So, that's what I'm going to do, go home."
Obviously, it was an emotional conversation for both of them. Both shed their fair share of tears.
In any case, here's what fans are saying about the breakup on Twitter right now:
Fans are definitely not happy and their faith in love is being tested to the limit right now. What a way for Kevin and Astrid to end their time in paradise.