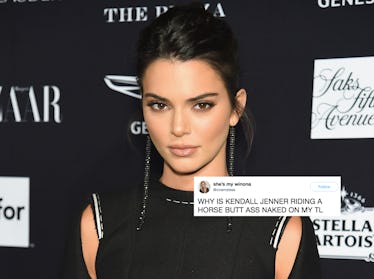 Twitter Has Completely Lost It Over Kendall Jenner Posing Fully Nude On A Horse
Dimitrios Kambouris/Getty Images/Twitter
Remember that episode of Friends where Phoebe and Rachel are in Ross' apartment when they see Monica and Chandler hooking up across the street? Remember when Phoebe was like, "MY EYES!!!"? That is all of Twitter right now after photos of Kendall Jenner running and riding a horse completely naked on a beach dropped on Tuesday, Sept. 11. The tweets about Kendall Jenner's nude photos on the beach are... very mixed reactions to the model's shoot. Some are like, "Yasssssssss!" Others are just like, "Why is this happening?!" while some are, of course, body-shaming her. As for me, I just hope that damn saddle was clean before she sat on it.
The photos are reportedly part of photographer Russell James' upcoming book ANGELS, which will feature various Victoria's Secret Angels, including Jenner. According to TMZ, the photos of Jenner were reportedly stolen from James and posted without authorization, so this is actually a pretty sh*tty situation. But Jenner is outspoken about her confidence in her body and is all about the #freethenipple movement, so hopefully she's doing OK after the photos leaked. But I really can't blame the Twitter users who are surprised by the photos' sudden appearance. There they were, just mindlessly scrolling through Twitter, minding their own business, when bam. Kendall Jenner comes running naked through the timeline. Then bam again. Naked Kendall Jenner rides a horse through the timeline with a new definition of bareback riding.
'Twas a bit unexpected!
Most of the tweets about these photos of Jenner are shocked reactions (the photos really just dropped in out of nowhere), but there are those who are body-shaming Jenner and it's just unacceptable. The woman can do whatever kind of photo shoot she wants and can present her body however she wants. Hard stop.
There are plenty of people combatting the body-shaming, however, and coming to Jenner's defense.
One Twitter user tweeted, "When even super models get made fun of for their looks, you know that women can't win no matter what we do. Her sisters get slammed for being 'fake' and having plastic surgery, she gets made fun of for her natural body being too skinny with small breasts." They continued in another tweet, "Bigger? You're too fat. Tiny? You must have an eating disorder? Big boobs and butt? You must be a slut and/or rely on surgery. Small boobs and butt? You look like a child. Women. Can. Not. Win. #sexism."
So far, Jenner hasn't responded to the photos at all. The most recent thing she posted was a photo of her holding a bouquet of red roses.
She's been seen at lots of Fashion Week events in the last week (she was at the Harper's Bazaar ICONS party where the Nicki Minaj and Cardi B fight went down), but who knows if we'll see any response from her regarding the reportedly leaked photos. There are some people on Twitter joking that it was Kris Jenner who leaked the photos, because the devil works hard but Kris Jenner works harder. But, eh, I don't know. I'm just going to label this whole thing as a random event that I never expected to see. (Please tell me the saddle was clean...)