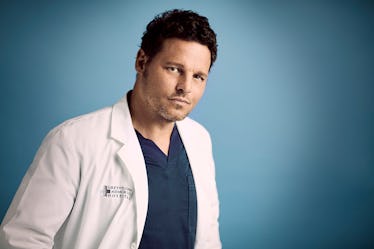 'Grey's Anatomy' Is Losing A Beloved Character & Twitter Is NOT OK
Mike Rosenthal/Walt Disney Television/Getty Images
It's no secret death is a prevalent theme in Grey's Anatomy. In addition to hospital occupants, the show has killed off beloved character after beloved character, shocking and devastating fans in the process. And while not all characters die when the actors who play them leave the show (some simply exit Grey Sloan Memorial for new endeavors), cast member departures of any kind tend to bring about a ton of grief for fans. These tweets about Justin Chambers leaving Grey's Anatomy are certainly proof of that, as fans are expressing all different kinds of reactions to the news they'll have to say goodbye to Karev.
Chambers said told Deadline in a Jan. 10 statement: "There's no good time to say goodbye to a show and character that's defined so much of my life for the past 15 years," adding that he's leaving in order to get some diverse acting roles under his belt. "As I turn 50 and am blessed with my remarkable, supportive wife and five wonderful children, now is that time," he explained.
Karev was introduced in the 2005 premiere of Grey's Anatomy as an intern at Seattle Grace Hospital alongside fellow newbie Meredith Grey (Ellen Pompeo). His character went through two marriages: one to Izzie Stevens (Kathrine Heigl) and one to Jo Wilson (Camilla Luddington), and became the head of pediatric surgery before getting fired after an insurance fraud scandal with Meredith. He most recently moved on to become chief at rival hospital Pac North.
Part of the reason fans are so shook by his exit is the revelation that they won't have a chance to formally say goodbye. Chambers' last episode already aired on Nov. 14, in the following week's episode, Karev was already gone, off caring for his ailing mother.
Fans are clearly going to need a moment as they grieve the loss of a character who has been a staple of the show since its beginning.
On top of heartbroken tweets, users found some meaningful memes to communicate their feelings about Dr. Karev's departure, and even put images from some of the show's most iconic moments to excellent (if super sad) use:
To catch more of the show's drama (but no more of Chambers, sorry), viewers can tune in when Season 16 of Grey's Anatomy returns to ABC on Jan. 23 in a two-hour crossover event with Station 19 starting at 8 p.m. ET.