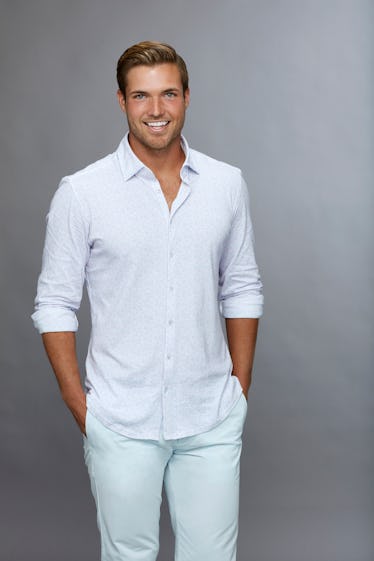 These Tweets About Jordan On 'The Bachelorette' May Prove He'll Be This Season's Villain
ABC/Craig Sjodin
Aaaaand we're off. Becca's Bachelorette stint is officially underway and America is already putting their judge hats on to figure out which contestants are going to get the boot and which might stick around for the long(er) haul. It's a tough job, but Bachelor Nation is used to it. One suitor that's getting attention right off the bat happens to be model Jordan — whose penchant for gym, tan, salt spray, and being "ridiculously good looking" sure is something. Tweets about Jordan on The Bachelorette are already pegging him as somewhat of a threat this season. Is he harmless, is he there for the right (or wrong) reasons, or is he bound to stir things up in the mansion?
"My brand is pensive gentleman," said Jordan, who also tried to show that being a model is harder work than you might think. Yes, it all sounds very taxing.
Jordan's entrance demonstrated just how, well, into his "look" he is. I mean, this is The Bachelorette and it would be a little naive to say appearances don't factor in to the situation, but come on.
"I wanted her to hear the tapping of the shoes I wore because it's like the heartbeat of a gentleman... Hopefully the fashion does make me unique," he explained. I have to hand it to Jordan for trying to stand out.
Was Becca having it? "He had some fun shoes," she noticed.
And was the audience?
Jordan is 26-years-old from Crystal River, Florida. "Fun fact about me. I run a mile in a 4.42," he says in his ABC bio video. "That's extremely fast."
He also enjoys kayaking and is a model. Hear that? Model.
Jordan also took some time to play resident fashion critic throughout the season's inaugural episode, mostly because he felt the other guys weren't on his sartorial level. "The occasion is to be dressed for. First off, put some socks off," he said at one point.
But Bachelorette guiding light and master of (rose) ceremonies Chris Harrison did put Jordan on his top 5 contestants competing for Becca, so maybe Bachelor Nation should warm up. He revealed to People:
Think of Ben Stiller's character in Zoolander. He's a model, and he's all about the model life. You'll learn a lot about the model life — the pitfalls and the hurdles. And Jordan wears underwear to a rose ceremony. He's a very confident, good-looking guy, but he's also very much a model. He brought his A-game.
Based on the history of this storied franchise, guys who exhibit extreme confidence or a serious competitive streak don't always gel with the other people in the mansion. You have to wonder if Jordan will rub the other contestants the wrong way as time goes on. Becca has already made it clear that she has no time for petty fights and internal conflict among the dudes, so it will be interesting to see how things play out in the house this season since it's already off to a dramatic start.
"I'm trying to weed out the drama as early as possible. Like, I don't want drama," she told ET prior to the show. "If there's a guy that's not meshing well with the other guys, I probably won't want to keep him around that long."
"I wanted to go through the entire season doing me, and treating these guys with respect," Becca has explained of her process of elimination. "So I will say that I tried to do that the entire journey."
Will "ridiculously good looking" Jordan continue to find his salt-sprayed way into Becca's heart? 'Til next time, Bach fans...