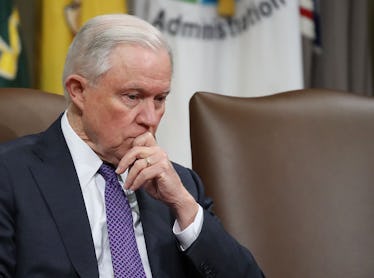 Jeff Session's Resignation Has Twitter Asking What's Even Real In 2018
Mark Wilson/Getty Images News/Getty Images
In a surprising moment on Nov. 7, Attorney General Jeff Sessions resigned from his post at the request of President Donald Trump. Naturally, Twitter had its take on the subject, and the tweets about Jeff Sessions' resignation show that some people are totally caught off-guard and straight-up appalled over the news. Elite Daily reached out to the White House and the Department of Justice (DOJ) for further comment on Sessions' resignation, but did not immediately hear back.
After widely-circulated reports that Trump would seek to fire Sessions after the Nov. 6 midterm elections, the attorney general submitted a letter of resignation on Wednesday afternoon that seemingly confirmed that he'd been cut loose. "At your request I am submitting my resignation," he wrote in the letter. The move marks a dramatic end to Sessions' tenure, which was plagued by constant criticism from the president over his recusal into the Russia probe investigating possible collusion between Trump's 2016 campaign and Russia. With such tension, Sessions' departure seemed inevitable, but it still caught the world off-guard — and the Twitterverse has a lot to say about it.
"Well, that was a tidy little three hours we had without a major national emergency," one Twitter user mused.
In another shocking development, Trump announced that there's already a replacement for Sessions: Matthew Whitaker. According to a tweet from the president, Whitaker will be acting as attorney general until a new one gets confirmed. The tweet read:
We are pleased to announce that Matthew G. Whitaker, Chief of Staff to Attorney General Jeff Sessions at the Department of Justice, will become our new Acting Attorney General of the United States. He will serve our Country well....
Trump also followed up with a tweet thanking Sessions for his service and wishing him well.
Pretty commendable comments, considering his turbulent relationship with Sessions. Trump has repeatedly lashed out at his top law enforcement official since Sessions recused himself from the Russia investigation. According to USA Today, after Sessions backed down from the investigation, Trump blamed him for the appointment of special counsel Robert Mueller and said he never would have nominated Sessions if knew the attorney general would have recused himself. The tensions ignited rumors that Sessions was on the verge of being fired by Trump. But Sessions responded by saying he would continue to serve in his position for "as long as that is appropriate."
The bitterness only worsened from there, though. Back in September, Trump went as far as saying that he didn't "have an attorney general" in an interview with Hill.TV. He also suggested to the outlet that he just wasn't happy with Sessions' performance. "I'm not happy at the border, I'm not happy with numerous things, not just this," he explained, referencing the Russia drama.
Since, the relationship has appeared to grow increasingly strained and it looks like it finally reached its breaking point. Who knows what that final straw was, but one thing is certain: it's definitely been a long time coming.