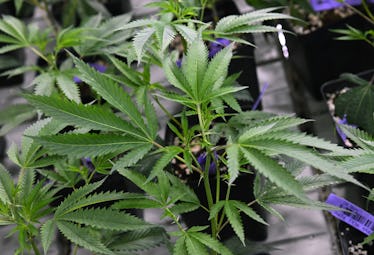 This Controversial Marijuana Policy Change Could Have Major Effects On Legalizing Weed
Ethan Miller/Getty Images News/Getty Images
On Thursday, Jan. 4, Attorney General Jeff Sessions announced a policy change to the marijuana industry that could likely have major effects on a state-level. Recreational marijuana has recently been legalized by a growing number of states, although on a federal level it remains illegal. The Justice Department, headed by Sessions, intends to rescind guidelines that have protected marijuana sellers from prosecution, further complicating the issue of marijuana legalization, and likely upsetting many states who have allowed the industry to flourish.
Sessions sent out a memo to all U.S. attorneys notifying them that the Obama-era policy is to be rescinded. The policy in action advised against weed prosecutions in the states where recreational and medical marijuana was legal, such as Oregon, Washington, and Colorado. Sessions said prosecutors should use their own discretion when considering marijuana-related prosecutions. During the Obama administration, state legalization grew, totaling eight states and the District of Columbia which currently have laws legalizing pot use, according to NORML.
"Given the Department's well-established general principles, previous nationwide guidance specific to marijuana enforcement is unnecessary and is rescinded, effective immediately," Sessions said in a one-page memo sent to federal prosecutors nationwide.
During a news briefing, a senior Justice Department official said it was unclear whether the new policy "will or won't" lead to more marijuana-related prosecutions, because it will be a decision made by individual U.S. attorneys. The ambiguity of the Justice Department's language could possibly leave too much room for interpretation, complicating the issue of marijuana even more. While Sessions and the department did not outright discourage the marijuana industry from carrying on, they did not promise any safety from prosecution either.
This news did not go over well with Democratic and Republican senators in states such as Colorado and the District of Columbia, which legalized the use of recreational marijuana in 2014 and 2015, respectively.
He said, "I am prepared to take all steps necessary, including holding DOJ nominees, until the Attorney General lives up to the commitment he made to me prior to his confirmation."
He wrote, "We need to protect the patients and dispensaries in the 46 states with medical marijuana and CBD laws. As Vice Chair of Appropriations, I offered an amdt in Committee to do just that – and it was approved with a bipartisan voice vote."
The Twitter account for the Colorado Senate Dems issued a comedic-but-serious response.
"We'll give Jeff Sessions our legal pot when he pries it from our warm, extremely interesting to look at hands," the organization said at the start of an epic Twitter thread.
Washington state Attorney General Bob Ferguson also issued a statement saying that he was "disappointed and troubled" by the Justice Department's decision. He went on to say, "Over the past year, Sessions has demonstrated a stunning lack of knowledge about our state's marijuana laws. I pledge to vigorously defend the will of the voters in Washington state."
Meanwhile, non-politicians on Twitter had their own responses to the news.
The future of the marijuana industry is at a bit of a halt as the Justice Department attempts to police marijuana at a federal level, and state lawmakers fight for the legalization of marijuana, especially as more and more states see the economic and decriminalizing benefits. It was an interesting move for Sessions considering that American support for marijuana legalization was at an all-time high of 64 percent as of October 2017. With such vague policies at play, dispensaries and pot sellers will likely continue to sell weed in legalized states, as they navigate the future of the industry. But the War on Drugs seems to be far from over.