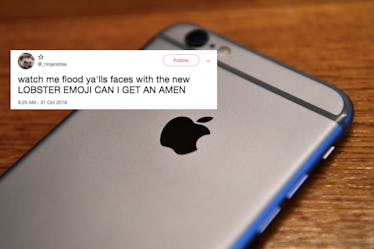 Twitter Is So Pumped About The New Lobster Emoji In The iOS 12.1 Update
Carl Court/Getty Images News/Getty Images
By now, you've most likely heard the big news: Apple recently released its latest and greatest mobile operating system — iOS 12.1 — to iPhones and iPads everywhere. In addition to enabling users to video chat with 32 of their closest friends via Group FaceTime, as well as the use of camera depth control, there are a ton of new emojis that just became available — and I'm beyond psyched about it. So, if you haven't already seen these tweets about iOS 12.1's new emojis, make sure check 'em out. They'll definitely get you pumped for this sweet new software update.
On Monday, Oct. 29, Apple announced the release of over 70 new emojis with iOS 12.1, which became available in an update on Tuesday, Oct. 30, according to a press release. The new emojis include people with red hair, gray hair, no hair, and curly hair, along with additional expressions, animals, sports, food, and cultural icons. There are so many different emojis you can now message to all your friends, and obviously, it's the most exciting part of the update. Twitter is freaking out right now, and their reactions to all the new emojis will definitely make your day. If you weren't already looking forward to today, get excited to use all of these wild new emojis.
A large portion of the Twitterverse is simply excited to get started with all the new emojis. They seem to have absolutely no idea where to begin, but between all of the fun and interesting options, there are bound to be some really great options.
Some of the Twitterverse seems to be pretty focused on using the new red head emoji. This is a big day for red heads everywhere, and all of them seem to be rejoicing RN.
And, of course, the new lobster emoji is getting a lot of freakin' love. I'm not sure when everyone decided they needed a wider variety of crustaceans in their emoji library, but clearly much of Twitter is thrilled about it.
Various other new emojis are getting nods, as well. The red envelope is getting some psyched to celebrate with lucky money, while the fire extinguisher is getting others ready to demonstrate some fire safety, and the new expressions are preparing users to get way more dramatic. Seriously, there are so many sweet options — take a look!
If you're looking to celebrate Oct. 31 with some festive emojis, talk like a skull, get wild like Jurassic, or send all your friends a few blood-sucking vampires. Even without the iOS 12.1 update, there are a ton of spooky options, so make sure to use 'em all.
Apple's iOS 12.1 presents iPhone and iPad users with so many new emoji option that it's practically overwhelming. Whether you decide to (finally) show some redhead pride, or if you'd rather tell someone they're your lobster, there are so many sweet new choices, and so little time. Get out there, use those emojis, and make all your non-Apple-using friends jealous. TBH, I have mad FOMO right now.