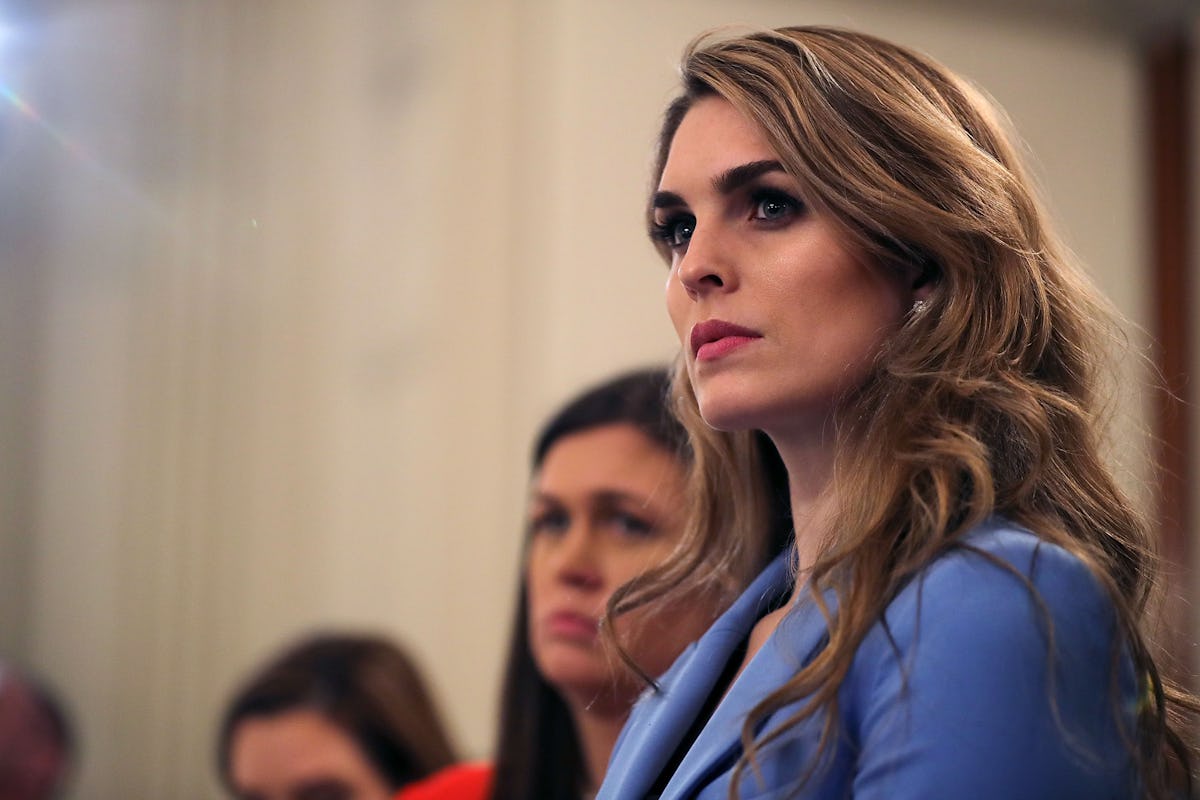 Everyone On Twitter's Making The Same Joke About Hope Hicks Joining Fox
Chip Somodevilla/Getty Images News/Getty Images
In today's political climate, the media and news outlets are more important than ever. However, these tweets about Hope Hicks joining Fox prove that not everyone is appreciating this particular outlet's latest hire. Welcome Ms. Hicks (and good luck).
On Monday, Oct. 8, Fox announced that former White House Communications Director Hope Hicks will be joining New Fox, the company spinning off following 21st Century Fox's merger with Walt Disney Company. Hicks will serve as their newest executive vice president and chief communications officer. According to a press release shared with Elite Daily, Hicks will work out of the company's Los Angeles-based office and focus on leading corporate communications.
As a former Trump aide, Hicks' new job at Fox sounds like a good setup, but it's her apparent new salary that might sweeten the deal even more. According to Politico, Hicks is likely to make a seven figure salary, which means she'll make five times more than she made as a White House aide. Um, wow. Representatives for Hicks and Fox did not offer comment on the terms of Hicks' employment, including salary.
Hicks may be excited for her career change, but the public can't help but laugh about the situation. Once it was announced Hicks would be joining Fox, many people took to Twitter to point out the irony of Hicks joining the station, which has been criticized as having a close connection with the Trump White House, after just leaving the White House. Representatives for Fox and the White House did not respond to Elite Daily's request for comment on the network's relationship with the White House.
Even though Twitter is clearly enjoying calling out this new partnership, White House Press Secretary Sarah Huckabee Sanders decided to take to Twitter to congratulate her friend on her new position.
So Hicks is off on a new adventure, but let's not forget her time as a White House staffer and aide. In 2016, the former model and actress joined Donald Trump's presidential campaign with no prior experience in politics. After helping secure his presidency, Hicks made her way to the White House, eventually serving as the administration's communications director. However, it wasn't long after Trump got comfortable in the Oval Office that Hicks announced her resignation from the White House, in February 2018. Hicks' resignation came just a day after her eight-hour testimony in front of the House Intelligence Committee, where she admitted she was required to tell "white lies" as a part of her job. A day later, she called it quits.
Despite resigning from her position, the Trump administration had nothing but glowing things to say about Hicks' years of service. In an interview with The Times, Trump praised Hicks for her work and wished her the best for the future. He said,
Hope is outstanding and has done great work for the last three years. She is as smart and thoughtful as they come, a truly great person. I will miss having her by my side but when she approached me about pursuing other opportunities, I totally understood. I am sure we will work together again in the future.
You know what they say, out with the old and in with the new. Luckily for Hicks and Trump, I have a feeling they'll be crossing paths very soon.