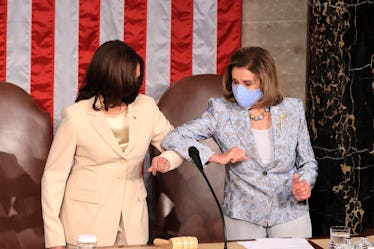 Twitter Has SO Many Feels About This Huge Moment From Biden's Address To Congress
CHIP SOMODEVILLA/AFP/Getty Images
On Wednesday, April 28, two of the most powerful politicians in Washington, D.C. made Capitol Hill history. In 2021, Vice President Kamala Harris and Speaker of the House Nancy Pelosi became the first two women to ever share the podium together behind a president at an address to Congress — and people all over the internet are loving it. The two elbow-bumped as they greeted each other in the chamber of Congress, visibly smiling under their masks. But they weren't the only ones smiling: Twitter is so emotional about Kamala Harris and Nancy Pelosi at the 2021 address to Congress, and it's honestly heart warming.
"Madame Speaker. Madame Vice President," Biden said, addressing Harris and Pelosi by title. "No president has ever said those words from this podium, and it's about time," he added.
During an address to Congress, the president is traditionally backed by the vice president (in their role as president of the Senate) and the speaker of the House, a tradition that can make for some strange bedfellows when two different parties control the executive and legislative branches. But the April 28 event was the first night the country witnessed two women standing in two of the most powerful positions in the United States, as a president addressed Congress and the country.
Neither Harris nor Pelosi are strangers to making history in Washington — both are the first women to occupy their political positions. Pelosi first became speaker of the House in 2007 during George W. Bush's administration. And 14 years later, Harris became the first woman to serve as vice president — not to mention the first Black and Indian-American person to do so — on Jan. 20, 2021. As two of the country's most powerful political pioneers, Harris' and Pelosi's success just might open the door for a madame president. Whatever the future holds, here's hoping it includes a podium with three women — including the president — in the not-to-distant future.