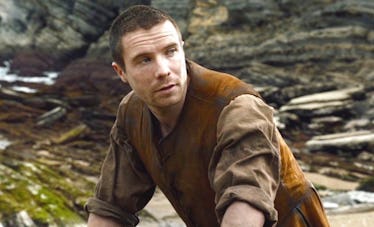 'Game Of Thrones' Fans Can't Handle The Fact That Gendry Is Seriously Hot AF
HBO
For a war-torn fantasy kingdom on the verge of icy annihilation, Westeros sure is full of some hotties. And nobody has made Game of Thrones fans thirstier than Gendry, the blacksmith bastard of the former king Robert Baratheon. Although Gendry tends to disappear from the action every so often, he was back to remind everyone why we watch this show in the Season 8 premiere. These tweets about Gendry in the Game of Thrones Season 8 premiere show that the fandom was thirsty as hell while watching the first episode of the finale season.
Spoiler alert: This post will contain some spoilers for the Season 8 premiere episode of Game of Thrones. The long-awaited premiere episode of Game of Thrones' eighth and final season kicked off in a very familiar fashion for superfans. Just as the first episode of the show began with a procession into Winterfell, the Season 8 premiere began with a different procession into the northern town. Instead of Robert Baratheon and the Lannisters, though, this procession contained all of the main characters that we last saw fighting against the White Walkers north of the wall in the Season 7 finale: Jon Snow, Daenerys Targaryen, Tyrion Lannister, and Gendry. Right when Gendry appeared on screen, fans wasted no time in posting about him.
Gendry's arrival was extra sweet because we got a rare smile from Arya when she saw him, which caused a lot of fans to wonder whether things might heat up between the old friends in this final season. That theory was bolstered even more by Gendry's only other appearance in the premiere episode. Having returned to Winterfell, Gendry wastes no time in getting his little blacksmith shop up and running again, making a dragonglass axe for the Hound. And although the Hound is characteristically surly about the exchange, Arya quickly steps in to defend Gendry.
After Arya chases off the Hound, she catches up with her old pal Gendry. The two have been through a lot together over the past several seasons of the show, and the strong bond they have developed is on full display in this cute scene. They lob little jokes at one another about titles and money, and then Arya reveals that she really came to see him to ask him to create a new dragonglass weapon for her. The flirty scene caused a lot of fans to see potential romance bubbling up between Arya and Gendry, and predictions that the two may get romantic in future episodes took over Twitter.
As some of the fans pointed out, a relationship between Arya and Gendry would actually fulfill Robert Baratheon's wish from the first season of Game of Thrones, when he told Ned Stark he wanted his son to marry Ned's daughter.
So, we will just have to wait to see if Arya and Gendry really do become something more than friends in these final few episodes. They better work fast, though, because there are only five episode of Game of Thrones left!