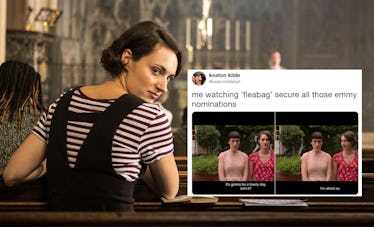 These Tweets About 'Fleabag's 2019 Emmy Nominations Are A Religious Experience
BBC
TV obsessives have been singing the praises of Pohobe Waller-Bridge's unique dramedy series Fleabag since it debuts in 2016, but it was not until its second season dropped earlier this year that the Emmy Awards really took notice. During July 16's nomination ceremony, Fleabag was a clear standout in the comedy categories, and these tweets about Fleabag's 2019 Emmy nominations show that everyone is overjoyed to see the beloved comedy get its shine in the awards arena.
The first season of Fleabag, which aired on BBC back in 2016, was well-received by critics, but failed to garner any Emmy nominations. That changed in a big way this year, though. The British comedy's second season has received even more enthusiastic reviews than its first, and has now raked in an impressive 11 Emmy nominations for the 2019 awards ceremony. Even more impressively, those nominations include acting nods for every actress in the second season of the show: Star and creator Phoebe Waller-Bridge is nominated for Outstanding Lead Actress in a Comedy Series; both Sian Clifford and Olivia Colman are nominated for Outstanding Supporting Actress in a Comedy Series; and even guest stars Fiona Shaw and Kristin Scott Thomas are nominated for Outstanding Guest Actress in a Comedy Series.
Along with its numerous acting nominations, Fleabag also received a nomination for Outstanding Comedy Series, along with nominations in writing and directing categories. Needless to say, fans were overjoyed to see the unique comedy series get so much Emmy love this year after its first season was completely snubbed. Check out some of the best reactions to Fleabag's multiple Emmy nominations:
Despite all of the celebration over Fleabag securing a ton of Emmy nominations, there was still a hint of disappointment among fans of the show over Season 2's breakout star Andrew Scott being snubbed. Scott's character, known only as The Priest, immediately became a viral sensation after the show's second season premiered, with fans on Twitter posting endlessly about Fleabag's "hot priest." While fans celebrated all the women on the series getting their deserved Emmy noms, many also lamented the hot priest not getting his due.
While Fleabag is certainly a clear favorite to take home a few Emmys this year, it will still be up against some very tough competition in the comedy categories. Both Marvelous Mrs. Maisel and Veep are awards season juggernauts which are nominated against Fleabag in most of its categories, and Veep has the added boost of being nominated for its final season.
But Fleabag does not just have to worry about the tried-and-true heavy hitters; the show is also nominated against some very promising newcomers in most of its categories as well. Netflix's new series Russian Doll had an impressive showing in the comedy categories in its debut season, and although Schitt's Creek is already five seasons in, the beloved sitcom has never been nominated for an Emmy until this year.
Fans will find out if Fleabag takes home some Emmys when the awards ceremony airs on Sept. 22.