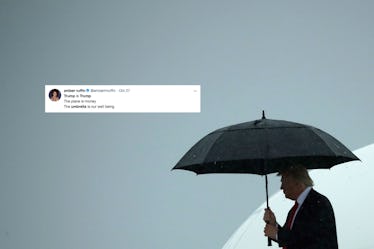 Twitter Can't Stop Talking About How Donald Trump Doesn't Know How An Umbrella Works
Chip Somodevilla/Getty Images News/Getty Images
In 2018, it's hard to make jokes when the political climate is so volatile. However, sometimes moments happen that are impossible not to laugh about, and these tweets about Donald Trump's umbrella serve as some much-needed stress relief. Iconic.
On Saturday, Oct. 27, Donald Trump boarded Air Force One to attend a rally in Illinois despite the fact that a national tragedy had occurred in Pittsburgh, Pennsylvania, that day. During the rainy Saturday, Trump held an umbrella while boarding Air Force One, but apparently forgot how the object works, since he decided to throw the open umbrella on the steps instead of closing it while entering the jet. It's not uncommon for Trump to do things that instantly go viral or lead to a meme or two, but this umbrella ordeal might be his most confusing yet. Once videos surfaced of Trump ditching the umbrella, Twitter immediately started calling the president out for apparently not knowing how to work an umbrella.
While some Twitter users simply made fun of Trump's umbrella faux pas, others went further by pointing out that this subtle umbrella moment might serve as a metaphor to Trump's current presidency in the United States. Basically, using the umbrella when it's convenient and then ditching it once it's not needed anymore.
Trump's actions are oftentimes subject to jokes, but there are a lot of times where his words and comments aren't that funny. On Oct. 27, after a fatal shooting at the Tree Of Life Synagogue in Pittsburgh, Pennsylvania, took place, Trump responded to the synagogue shooting by telling CNN that if there was an "armed guard" watching the synagogue, the outcome would have been different. "If there was an armed guard inside the temple, they would have been able to stop him," Trump told CNN. Elite Daily reached out to the White House for comment about Trump's statement at the time, but did not hear back.
The shooting at Tree Of Life synagogue killed 11 people. Once news broke of the shooting, individuals from all over the country immediately took to social media as a way to push for stricter gun laws and discuss that anti-Semitism is still a very serious problem plaguing the United States.
Trump's stance on gun laws has been controversial to say the least, especially since Tree Of Life incident is yet another fatal shooting that's occurred in a public space. Even though some thought that this national tragedy might be the push Trump needs to understand the severity of gun violence in America, the president apparently has other plans in mind. While talking to reporters about the fatal shooting, Trump pushed for stricter laws around the death penalty instead of discussing tightening up on gun laws. Elite Daily reached out to the White House for comment about Trump's words at the time, but did not hear back. He said,
When people do this, they should get the death penalty. Anybody that does a thing like this to innocent people that are in temple or in church ... they should be suffering the ultimate price, they should pay the ultimate price.
Trump's viral umbrella moment might have been something to laugh at, but there's still serious tragedies happening in the United States. For those who want to know how to support the Pittsburgh victims, here's what to do.