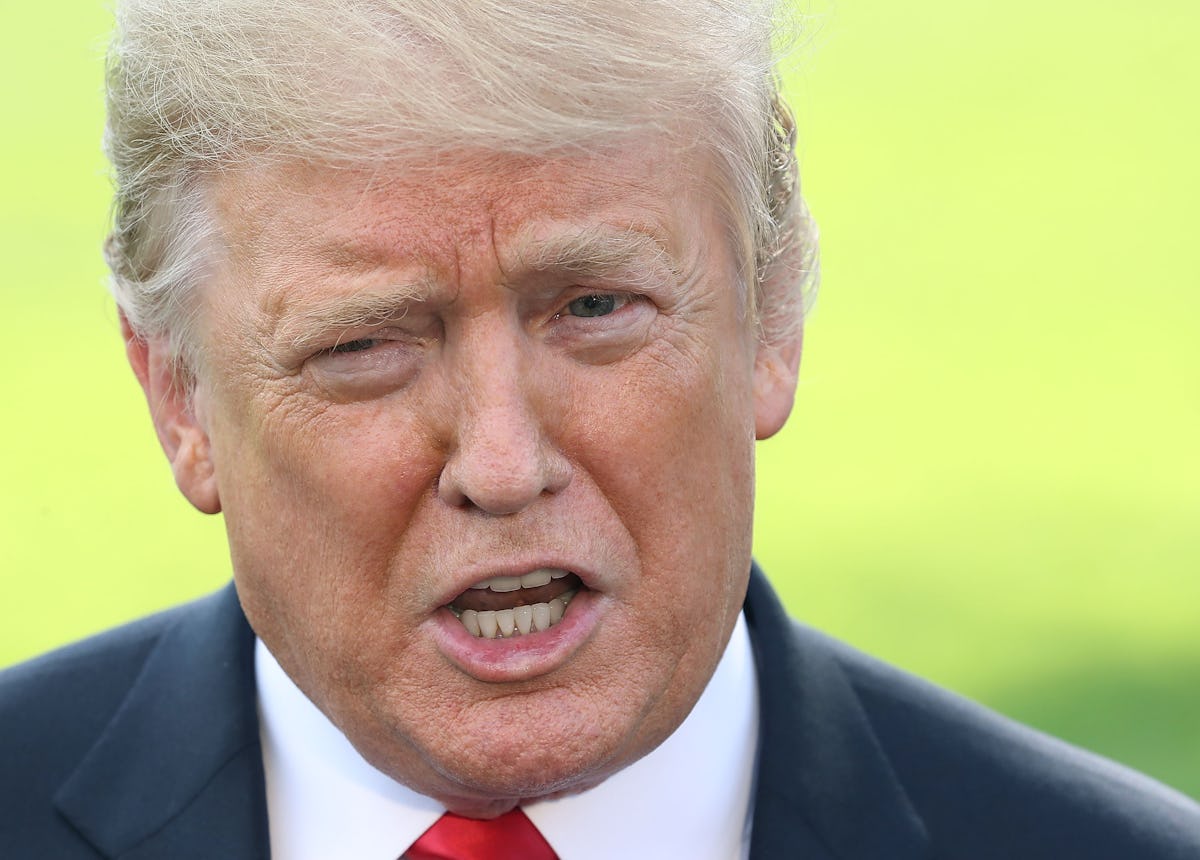 Twitter's Response To Trump's Op-Ed On Medicare Calls Out His "Inaccuracies"
Mark Wilson/Getty Images News/Getty Images
Twitter often gets upset about a lot of things. This time, however, it's seemingly for a pretty solid reason. On Wednesday, Oct. 10, USA Today published an op-ed by President Donald Trump, in which the commander-in-chief criticized Democrats on the subject of universal health care, particularly the Medicare for All proposal. Almost immediately, people took to Twitter to point out what they said are major inaccuracies in his post. Seriously, these tweets about Donald Trump's op-ed on Medicare are calling on him to get the facts straight. Elite Daily reached out to the editorial editor at USA Today as well the White House for comment on the apparent inconsistencies, but did not hear back by the time of publication.
In the op-ed, Trump launched a series of incendiary accusations against Democrats regarding Medicare for All — a program pushed by Vermont Sen. Bernie Sanders, which aims to expand the publicly-funded health care program Medicare to everyone in the United States while eliminating almost all private health insurance and public programs, according to The Los Angeles Times. Trump wrote that the plan would negatively affect senior citizens and would "eviscerate Medicare," which provides health care to individuals over the age of 65 and people with disabilities, along with some other... peculiar comments.
Immediately, people began slamming the op-ed for inaccuracies on things like whether the proposal would take away benefits for seniors, who was responsible for removing money from the public health program, and portraying Trump as a champion for those with pre-existing conditions. A Washington Post fact-check found that the plan would likely improve benefits for seniors, that funding for the current iteration of Medicare had declined under Trump, and that the Trump administration had broken a promise to support protections for people with pre-existing conditions. The White House did not immediately respond to Elite Daily's request for comment about the op-ed.
The controversial op-ed, which left out any mention of the improved benefits that Democrats have promised, prompted a heap of reactions online, with even Sanders himself calling out Trump for having such a "difficult time telling the truth."
New York Sen. Chuck Schumer took it upon himself to do some fact-checking on the op-ed, marking out more than a dozen apparent inaccuracies with a bold red marker (including lines crossed out and just replaced with "NO"). Schumer then tweeted the revised image to Trump, writing that it "[needed] some work."
Matthew Gertz, a senior fellow at Media Matters for America, pointed out that the op-ed even features links to information that directly refutes its claims. He tweeted:
Pretty amazing. USA Today lets Trump lie about his position on pre-existing conditions, but if you click through the link you get a [Washington Post] fact-checker piece pointing out that his administration is trying to gut those protections in court.
Trump's op-ed is a continuation of his attacks on Democrats ahead of November's midterm elections. An unnamed White House official told the Associated Press on Oct. 10 that the president's comments on the proposal will be echoed by the Republican National Committee and other GOP groups in the days to come, and that Trump will continue slamming Democrats in his campaign rally. Before the op-ed, the president tried to paint Democrats as "radical" over the handling of Brett Kavanaugh, his Supreme Court nominee whose confirmation process was nearly derailed with multiple accusations of sexual misconduct, which Kavanaugh vehemently denied. Elite Daily reached out to his representatives for further comment at the time, but did not receive a reply.
Following Kavanaugh's confirmation, Trump called the allegations a "hoax" by Democrats and accused them of being in such a "blind rage" over his election that they were willing to jeopardize his nominee. Per the Associated Press, Trump apparently believes his messages will motivate Republican voters to head to the polls next month.
It looks like the op-ed may not have been the best option, though. Perhaps Trump should stick to his tweets... since there's a word limit and all.