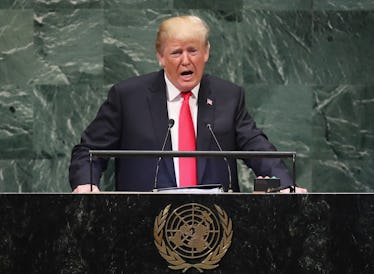 Donald Trump Is Accusing China Of Meddling In The 2018 Midterms Now, Which, Uh, Wow
John Moore/Getty Images News/Getty Images
On Wednesday, Sept. 26, President Donald Trump took a seat alongside his fellow world leaders to take part in the United Nations Security Council, which was all the more intriguing given that it was the United States' turn to preside over the meeting. Needless to say, with Trump chairing the discussion everyone expected a few unforgettable moments, but these tweets about Donald Trump accusing China of election meddling prove that no one was expecting this. Woo boy.
During the gathering, which was ostensibly meant to discuss nuclear non-proliferation, Trump accused China of attempting to meddle in the upcoming 2018 midterm elections, and then continued to blame it on the fact he's been challenging the nation on trade. He said,
China has been attempting to interfere in our upcoming 2018 election ... against my administration. They do not want me or us to win, because I am the first president ever to challenge China on trade.
Elite Daily reached out to the White House and the Chinese Embassy for comment about Trump's claim that China has meddled with the 2018 midterm elections, but did not hear back in time for publication.
Not only is Trump's attack towards China mistimed, but it's seriously ironic and there's literally no proof that China has remotely touched the 2018 midterm elections. It's no secret that the Trump administration has been having a difficult time after Special Counsel Robert Mueller indicted 12 Russian intelligence agency members with meddling in the 2016 presidential election, so this could be Trump's way of trying to distract everyone from that ongoing drama.
Twitter was... well, let's just say confused.
Even though Trump's comment might have come out of left field, it looks like he's not the only one who believes there's been tampering with the 2018 midterm elections. California Congressman Jeff Denham has also discussed China's alleged election meddling during a July 2018 interview with 209 Podcast. He said,
China has been a good partner on a lot of issues. They've backed us up with North Korea. They are a good trading partner, even though they've not acted so well with our elections. They've tampered with our elections quite a bit.
Despite Trump and Denham's claims, PolitiFact California debunked the two Republicans by stating that there's no evidence to prove that China has meddled with the United States elections at all. Instead, Russia has been the key figure involved with U.S. election meddling, particularly the 2016 presidential election, and has been the main focus within Mueller's investigation over the past few months. When it comes to Russia, the U.S. intelligence community is pretty darn sure they did it.
Of course, it's to little surprise that Trump would shift the blame towards another nation and steer away from Russia. Trump and Russian President Vladimir Putin's unexpected bromance has been a topic of conversation since Trump took office, and their infamous face to face meeting in Helsinki sparked headlines back in July. Plus, the timing of that meeting couldn't have come at a more inopportune time, since Mueller indicted the Russian intelligence members just two days before Trump and Putin met.
If I were Trump, I'd avoid discussing election meddling from here on out. It's definitely been a sore subject for this administration over the past few months.