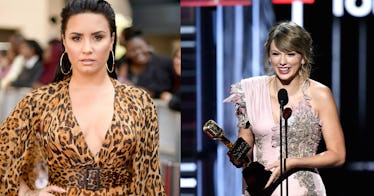 Twitter Is Convinced Demi Lovato Shaded Taylor Swift At The BBMAs & I Can't Handle It
MATT WINKELMEYER/GETTY IMAGES ENTERTAINMENT/GETTY IMAGES / Kevin Winter/Getty Images Entertainment/Getty Images
The 2018 Billboard Awards are underway and the internet is already in a tizzy over potential shade-throwing. Taylor Swift surprised audiences by not only showing up at the big show, but winning the major award for Top Female Artist, beating out heavy-hitters Camila Cabello, Cardi B, Halsey, and Demi Lovato. Now Twitter is convinced Demi Lovato shaded Taylor Swift at the BBMAs during Tay's acceptance speech, because you can't have an award show without drama, right?!
"Wow, thank you. I haven't been to an award show in a few years and it's so nice to be here tonight. And it's so nice to receive female artist. I'm on an all-female-artist tour right now," Taylor addressed the BBMA audience.
After shouting out her tour mates, Camila Cabello and Charli XCX, Taylor went on to thank her musical contemporaries and "all the female artists who paved the way for us to get to do what we do the way we get to do it and all the new artists, the female artists who are killing it right now. We're so inspired by you," Tay remarked.
Cut to Demi in the audience, who, according to Twitter, spoke volumes with just one look:
Hmm. I'm no physiognomic scientist or body language expert, but it sure looks like Demi's just sitting there listening to Taylor's words of gratitude. Just because these two artists were up in the same category does not necessarily mean Demi's trying to send a message via her face in a televised forum, even if she did lose and the musicians have a public history.
Or, uh, maybe she is. Who knows!
Demi and Taylor came up in the industry together at the same time, so their names have been in the same sentences for years when it comes to their professional and their personal lives. While the musicians seemed to have been friends at one point, Demi and Taylor did date the same guy: Joe Jonas.
The duo has had their speculated ups and downs over the years and Demi even got heat from Swifties in 2015 when it looked like she was calling out Taylor in a tweet speaking her mind about those who decided to stay silent on social media in response to Kesha's Dr. Luke trial verdict. Taylor donated $250,000 to Kesha for legal fees instead. "Take something to Capitol Hill or actually speak out about something and then I'll be impressed," Demi tweeted.
"I get carried away on Twitter, and that's what I said, and that's that," Demi explained to Refinery29 in 2016.
"Listen, there's nothing positive that comes from pitting women against each other. There are women that I don't get along with, and that's fine. My thing is, don't brand yourself a feminist if you don't do the work. I have an immense amount of respect for women like Lena Dunham... or Beyoncé, who make amazing political statements through their work," she added.
Demi also spoke about Taylor's "squad" in an interview with Glamour, saying, "To be honest, and this will probably get me in trouble, I don't see anybody in any sort of squad that has a normal body. It's kind of this false image of what people should look like. And what they should be like, and it's not real."
Taylor and Demi don't seem to be buddy-buddy right now, and who knows if they'll ever be? But one look doesn't necessarily a shade moment make. Maybe Demi was trying to make a point, maybe she was just taking it all in, or maybe she was just waiting for BTS to perform like the rest of us. No matter what, Twitter will always have something to say about it.