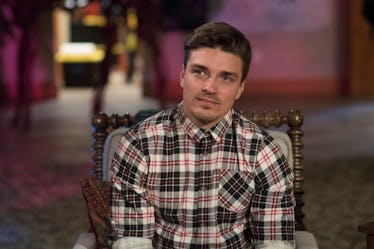 These Tweets About Dean On 'Bachelor Winter Games' Show Fans Are Still Conflicted
The Bachelor Winter Games is contestant Dean Unglert's third franchise appearance, and he was only introduced to the entire series this past May. Yes, he's very extra. After his attempts to balance affection for two women on Bachelor in Paradise dramatically failed, I'm sure plenty of us could have done without Dean's redemption tour on Winter Games. That being said, rumors of Dean's new relationship that formed during Winter Games have flown for weeks, so it's quite possible that "Deanie babies" has grown up a little. Tweets about Dean on Winter Games during the first episode's premiere were mixed in tone, suggesting that, no matter what he does, Dean may always find a captivated audience in Bachelor Nation.
Since the Paradise demise of the pure-hearted and emotionally mature guy we met on The Bachelorette, Dean has introduced his Help! I Suck at Dating podcast, which joins an ever-growing lineup of Bachelor alum podcasts with varying levels of success. I mean, it's safe to say that anyone who goes on The Bachelorette hasn't had the best of luck with love, but running a podcast that advertises that quality hasn't exactly redeemed Dean's Paradise actions. When he first launched the project last year, some fans weren't too thrilled, which is understandable.
But, when Dean's introduction was shown on Winter Games, his true fans came out of the woodwork, even though some were doubtful about his credibility.
Then there were the unforgiving tweets from people who still haven't gotten over Dean's Paradise love triangle with Kristina and Danielle. Dean, if you're on a show with a predominantly female audience, then you've got to tread lightly with your treatment of women.
Apparently, a name change of Dean's podcast may be in store, especially given the essentially verified speculation of Dean dating fellow Winter Games contestant Lesley Murphy. In January, E! News reported that the two were seen holding hands at the Sundance Film Festival in Utah, and a source said, "They are exclusive as of now. They have been spending a lot of time together since the show ended filming."
Obviously, neither Dean nor Lesley can directly confirm their relationship until Winter Games is over, but the news is so widespread that it's just been awkward hearing them speak about the show and avoid mentioning each other. After all, it's 2018 and no TV fan with an internet connection is oblivious. The closest hint Dean dropped about his new girlfriend was him saying that he feels "incredibly happy" since filming Winter Games.
Seeing as anyone keeping up on Bachelor Nation couplings is aware of the relationship, Twitter users did take the time to discuss the first episode's romantic foreshadowing. The two started discussing Dean's parents' unorthodox activities when he was a kid, and Lesley was into it.
I have my fingers crossed for Dean and Lesley's time on the show to mirror now-engaged couple Derek and Taylor's bond on Paradise — unbelievably dull, but committed to each other from Day 1. While I have faith in them, Twitter was once again mixed, understandably concerned about Lesley in this pairing.
While a date wasn't in the cards for these two this time, they still bonded over their past experiences with cancer. As we learned on Rachel's season of The Bachelorette, Dean's mom died from cancer when he was young, and her death completely altered Dean's family dynamic, perhaps for the worst. Before she returned to the Bachelor franchise for the first time since Sean Lowe's season, Lesley made headlines last year for undergoing a preventive double mastectomy after testing positive for the BRCA 2 gene. Her mother is also currently in remission from her own bout of breast cancer, so Lesley and Dean have that shared perspective of seeing a parent's health in jeopardy.
After he poked fun at the "World's Longest Onscreen Kiss" record Lesley set with Sean on her Bachelor season, all of Dean's boob talk with Lesley sparked even more concerned Twitter opinions.
However, the conversation also showed a glimpse of the sweet, innocent Dean we all fell in love with on The Bachelorette. Aw, remember that guy?
If his onscreen relationship with Lesley continues to come across as a positive, genuine thing, I think it's safe to say that Dean may gain back viewers' respect on Winter Games. We'll have to keep watching to know if this couple is truly worth supporting, but it looks like Dean and Lesley have formed a solid foundation. Whether we like it or not, they still seem to be going strong in their off-camera lives.
The Bachelor Winter Games returns on Thursday, Feb. 15 at 8 p.m. ET on ABC.