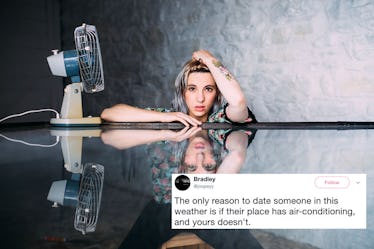 People Are Dating People For Their Air Conditioning & The Tweets Are Hilarious
I've lived in South Florida for the past eight years and I spent my life before that in the Caribbean so I know what it's like to be hot all. the. time. It wasn't until I spent a summer in New York City though, that I truly got on board with the idea of dating people for their air conditioning. The nearest beach was no longer a quick walk or drive away and central air conditioning proved just as elusive. Unfortunately, I wasn't able to put my master plan into action because I was a high school junior at the time, traveling with my parents. I'm happy to report that others have since done it for me and I salute them.
Samantha*, a 25-year-old New Yorker, confirms that this is totally a thing people do in the city because she's guilty of it, too. She says, "I dated my ex-boyfriend Kyle* for many reasons. He was kind, caring, had a similar sense of humor... He also had his own one-bedroom apartment with two air conditioning units and access to a summer house in the Hamptons."
For Samantha, being with Kyle was like being on a tropical vacation and, yeah, it was drinks-inclusive. Another round for me, Kyle! She says, "When I first moved to the city, my life was pure chaos and having this little, chill oasis was actual paradise. Plus, he always seemed to have cold beer on hand. I definitely stayed with him longer than I should've because our summers spent together were THAT good." Get you a partner like Kyle who keeps their air conditioning units gassed up and their fridge stocked with ice-cold, alcoholic beverages all summer long.
If you think about it, this is peak survival mode, which is what most people move to crowded cities to learn in the first place. Here are 10 people who had the same idea about dating someone purely for their air conditioning.