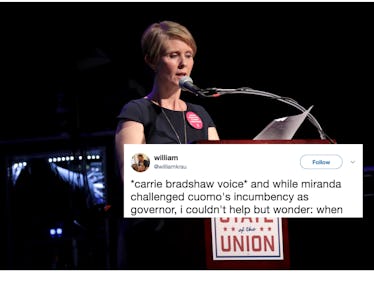 Twitter Keeps Making The Same Hilarious Joke About Cynthia Nixon's Run For Governor
Cindy Ord/Getty Images Entertainment/Getty Images
I always knew that Cynthia Nixon had a little Miranda Hobbes in her. Miranda, the strong-willed, family-oriented lawyer played by Nixon on Sex & the City, was always seen as the voice of reason among her peers, but especially to her three girlfriends Carrie, Charlotte and Samantha. And after watching Nixon's video announcing her run for New York governor posted on March 19, said qualities are definitely present throughout the clip. Even other Sex & the City fans noticed, because the tweets about Cynthia Nixon's run for governor are all centered around the show.
If you aren't aware, Miranda wasn't the lead character of Sex & the City — her BFF Carrie Bradshaw was. Carrie was a hopeless romantic and a newspaper columnist who wrote about everything on her mind: her shopping addiction, relationship drama, and her friendships. Her reflections often started with "I couldn't help but wonder..."
So upon hearing the news of Nixon placing her bid in the race for governor of New York, many of us couldn't help but wonder all the things that Carrie would write in her column about it, including what persuaded Nixon to run for office in the first place, or how far she'd get in the upcoming election against current Governor Andrew Cuomo.
Carrie's "thoughts" on her TV bestie's big announcement are gold.
And my personal favorite example of what Carrie might conjure up for her column: "Watching Miranda compromise her values to pass the bill, I couldn't help but wonder… what are the things we compromise daily with the men in our lives? When it comes to the politics of relationships, how can we get our bills to become law without sacrificing who we are?"
Sounds like a column to me.
Others made jokes about the themes of Nixon's campaign and what inspired her to run for office.
On March 19, Nixon threw her hat in the race for governor of New York state. In the video announcement, she declared her love for New York and dissatisfaction with the current state of politics before calling on New York residents to help her "win this fight." She said,
I was given chances that I just don't see for most of New York's kids today. Our leaders are letting us down. We are now the most unequal state in the entire country, with both incredible wealth and extreme poverty. Half the kids in our upstate cities live below the poverty line? how did we let this happen. I love New York. I never wanted to live anywhere else. But something has to change. We want our government to work again, on healthcare, ending mass incarceration, fixing our broken subway. We are sick of politicians who care more about headlines and power than they do about us.
She continued, "If we're gonna get at the root problem of inequity, we have to turn the system upside down. We have to go out ourselves and seize it. This is a time to stick our necks out. ... This is a time to be visible. This is a time to fight."
If Nixon gets elected, she'll be the first female governor, as well as the first openly gay governor in the state's history, The New York Times reported.
Nixon's been talking politics for a while.
There have been rumors circulating about a Nixon candidacy for weeks, but she's been talking politics for longer than that.
While visiting The View in 2017, according to People, Nixon criticized Cuomo's education policies, saying he was "shortchanging the children of New York State." And when discussing the possibility of running in the election for governor, she seemed to leave the idea in the air. She said, "I think there are a lot of people who would like me to run for a variety of reasons. And I think the number one is education."
In August 2017, Billy Easton, the executive director of the Alliance for Quality Education (AQE) told the publication that she would make a great politician. He said,
As a public school mom and a member of the Alliance for Quality Education, Cynthia has consistently been on the front line in the fight for our public schools. She knows her way around New York State politics, is a very thoughtful and intelligent leader and brings a pizzazz that would really excite voters.
Maybe he's right, because I'm thoroughly intrigued by Nixon's announcement. But still, I can't help but wonder how far she's gonna get.