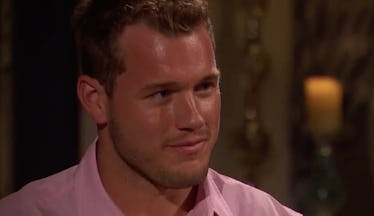 Colton Revealed A Major Secret On 'The Bachelorette' & Twitter Erupted
ABC
Is it hot in here or is it just Becca and Colton? Season 14's Bachelorette and the pro football player went on a 1-one-1 this week that involved snorkeling, smooching... and secrets! While it was smooth sailing for much of the time, there were also rocky waters — emotionally speaking, that is — along the way. Following a romantic beach day in the Bahamas, Colton prepared to get real and let Becca know that he's a — dun dun dun — virgin. And these tweets about Colton's virginity secret show that Bachelor Nation has a lot to say about the reveal.
"It's been a personal choice that I've made. My fear today is how is she going to react to it," Colton explained in an interview prior to the crucial convo.
Colton and Becca went boating on their romantic day date and even sampled some fresh local conch, which is supposed to be an aphrodiasiac.
"I don't think Colton and I need any aphrodiasiacs," Becca remarked after they slurped down the delicacy right out of the ocean. If there was any a moment to cue one of those cheesy live studio audience "wooooos" from '90s sitcoms when people kiss, it would be right after she said that.
But after all the innuendo, makeouts, and sweet talkin,' Colton knew what he had to do. He had to tell Becca the whole truth about himself, even if he thought it might be a "dealbreaker."
So, what did Bachelor Nation have to say this big news?
At dinner, Colton let the cat right out of the bag. He explained that his career in sports led him to this point in his personal life and that not very many people know about his so-called "skeletons in the closet." How did Becca react?
"Thank you for telling me," she told him. "I would never want to pressure you or put you so much outside your comfort zone where it would worry you."
And then... she excused herself and walked away. Um, probably not the best time go to the bathroom, Becca. OK, she didn't leave for that reason — she needed to go contemplate the situation for dramatic effect.
"For me it's just one of those things where when the time comes it will happen," Colton elaborated upon her return. "I'm not trying to prove anything. It's just a part of me. In the past I was scared. I was ashamed. Because growing up in a locker room environment wasn't easy."
"I'm not waiting for marriage, I'm waiting for the right heart," he added. Becca later remarked she appreciated this sentiment.
Becca and Colton have hit it off from the start although they've faced obstacles from early on. Early on meaning, like, three weeks ago because relationships move very fast in Bachelor years. Colton quickly became known as the contestant who dated Tia when he revealed he had a short-lived fling with Becca's former Bachelor Season 22 castmate and friend Tia Booth. But that's all the in the past, according to the pair.
"It makes me feel a little bit sick. I'm very attracted to you and I really like what our conversation was on night one and I feel like we had a lot in common but it's a very tricky situation and it puts me in a very strange position," Becca told Colton in week two after he revealed the Tia situation.
Becca later got the chance to speak to Tia about everything when she made an appearance in week three and all was right in the Colton/Becca-verse when the air was clear. The duo continued to grow closer over the past few weeks.
"The more I'm with him the more comfortable I feel," Becca noted in week five.
As expected, Becca had no issue with Colton's virginity and applauded his honesty. Colton got a rose right there and then, which means he's taking her home to meet his family next week. Let's hit the road for hometowns, people!