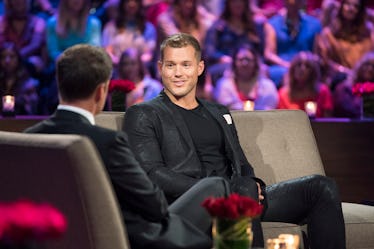 'Bachelor' Fans Are Freaking Out Over Colton's Contestants
ABC/Paul Hebert
Twitter is always at its peak when it's filled with Bachelor live-tweeting, and those stellar posts are just a month away from being back on our feeds. Now that Season 23's trailer and contestants are revealed, we can start getting excited about roses, fantasy leagues, and tipsy eliminations again. The announcement of the 30 women on Colton Underwood's season has inspired plenty of tweets, foreshadowing what memes we can expect in January. These tweets about Colton's Bachelor contestants will definitely get you in the mood for Monday night wine and tears.
Host Chris Harrison announced the women competing for 26-year-old Colton's heart in a Facebook livestream on Dec. 6. He did the same when introducing Bachelorette Becca Kufrin's contestants earlier this year, and any longtime Bachelor fan has figured out how to crack Chris's poker face by now. Although you might be busy analyzing his expressions for clues on which woman makes it far, Twitter has already dissected the information Chris spilled about the contestants. So, which little quirk is worth including in your drinking game on premiere night?
While we previously met three of Colton's women during his appearance on The Ellen DeGeneres Show, we've seen snippets in the season trailer of who might stir trouble among the group. Clips show one woman confronting another about making Colton feel uncomfortable, while another argues with at least one other contestant about gossiping behind her back. Sounds like your typical Bachelor fare, right?
But now with some extra info on the women, Bachelor Nation has singled out a few contestants. Employment history is always a talking point on The Bachelor, and this group of contestants is no exception. Katie, one of the women introduced on Ellen, quit her job as a NBA dancer to film the series, while other women's job titles include being a sloth, Cinderella, and a dog rescuer. Well, personality trumps work anyways, right?
Other than poking fun at the women's jobs, there aren't too many specific jokes out on the Twitter-verse yet. However, one fan has counted the number of diverse women in the contestant pool, which is always an interesting factor each year. We'll have to wait for further info before confirming these stats, but ABC actually seems to have done well in casting women from various backgrounds this season.
You think ABC checked everyone's social media accounts too? Just saying.
At the end of the day, fans generally seem supportive of Colton's search for true love. We should all put away our Team Jason and Blake shirts and start pouring the wine, because either way, his women ought to make the show entertaining.
Between these contestants' unique qualities and ABC's persistent jokes about Colton's virginity, we can definitely look forward to a plethora of memes and tweets related to The Bachelor this year. Start drafting those witty comebacks now!
Season 23 of The Bachelor premieres on Monday, Jan. 7, at 8 p.m. ET in a live three-hour special on ABC.