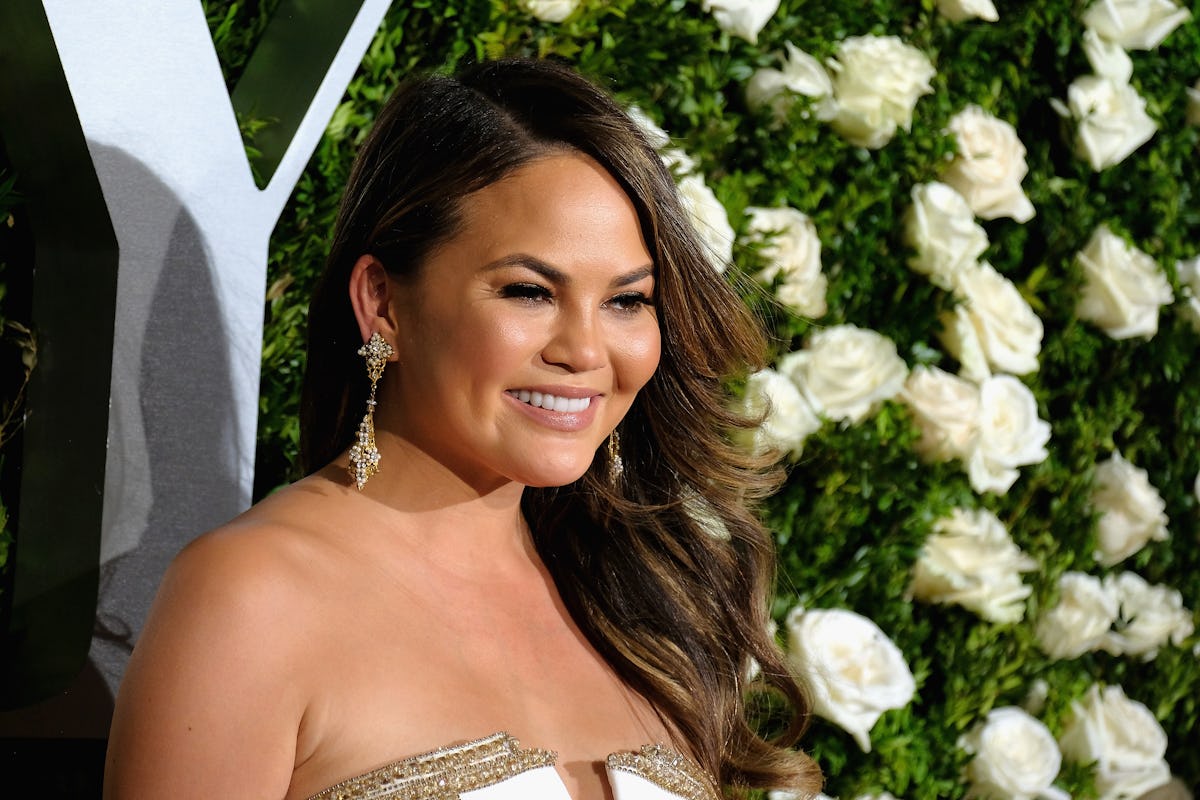 Chrissy Teigen Commented On Logan Paul, & Some People Are Seriously Pissed
Jemal Countess/Getty Images Entertainment/Getty Images
Chrissy Teigen is used to getting the internet riled up, but this is a new step for her. Teigen is the latest star to weigh in on the controversy surrounding YouTube star Logan Paul, who caused a national stir after sharing a video of a dead body hanging from a tree in a Japanese forest. On Jan. 2, she took to her Twitter to share her thoughts on the controversy, but Twitter wasn't having it — and tweets about Chrissy Teigen's comments on Logan Paul have started a firestorm of their own.
While many raged against Paul and denounced his video, Chrissy Teigen seemed to have a different opinion. After seeing the continuous condemnation of the social media star, the model tweeted a message advising people not to be so critical of celebrities, notably because people don't understand the harsh criticism they often receive, and offered a differing viewpoint in the debate against the fate of Paul's future as a public figure.
On Dec. 31, Paul, who has more than 15 million subscribers, and endorsements from HBO and Pepsi, posted a video of a body hanging from a tree in Japan's Aokigahara Forest, known as the "Suicide Forest." The posting was met with national outrage from fans, suicide prevention advocates, celebrities and more.
So when Teigen chimed in on the matter, saying that when people make ethical mistakes we should either accept their apology or stop supporting them and move on, not everyone agreed. She tweeted:
Re: Logan Paul, something I always think about is when people make...ethical mistakes, as in, not-illegal, should we really be trying I [sic] ruin their lives and end their careers or accept the apology, personally make a choice to stop watching, and move on.
She brought up a a similar experience she had years ago about an (unnamed, but it's kind of obvious who) clothing company who made critical remarks about children, like her daughter Luna, who were born through in vitro fertilization (IVF). According to Teigen, instead of publicly bashing the company, she chose to never support them again. She wrote,
An example I have is with a certain clothing company. Years ago the designers said things i personally found horrible about IVF children. I made the choice to simply...never wear or purchase again instead of trying to "end them"
It seemed like Teigen was simply trying to acknowledge the fact that everyone makes mistakes.
But many Twitter users didn't care for what she had to say.
Right on, @_debrav. Paul should totally know better.
Others seemed to understand Chrissy's comments, but couldn't justify Paul's actions no matter what the YouTube star said.
And even some of Teigen's most loyal followers couldn't come to her rescue.
Since the original video posted, Paul has apologized.
On Jan. 1, he took to his Twitter page to apologize for the stunt, saying he was simply trying to bring awareness to suicide and suicide prevention. In a video tweeted on Jan. 2, two days after uploading the video, Paul took to his Twitter to apologize a second time for his controversial post.
"I've made a severe and continuous lapse in my judgment, and I don't expect to be forgiven. I'm simply here to apologize," he explained in the video. "What we came across that day in the woods was obviously unplanned, and the reactions you saw on tape were raw. They were unfiltered. None of us knew how to react or how to feel. I should have never posted the video. I should have put the cameras down." The video has since been removed from his YouTube account.
But many Twitter users weren't buying it and proceeded to slam him online.
Many asked YouTube to suspend his account and others tweeted in disgust of Paul's video.
"You disgust me," Breaking Bad actor Aaron Paul wrote. "I can't believe that so many young people look up to you. So sad. Hopefully this latest video woke them up. You are pure trash. Plain and simple. Suicide is not a joke. Go rot in hell."
After the backlash Teigen received following her comments on the social media star, she concluded her defense by tweeting she thinks she's "talking to the wrong audience."
"Not many of you guys will ever understand the campaign to END YOU...some of you are the enders and there is no conversation allowed (which I now clearly see) -point taken back to black mirror," she wrote.
After her mentions on Twitter were left in shambles, Teigen temporarily made her page private, ending her discussion of the topic for once and for all. Oh well. Can't win 'em all, Chrissy.