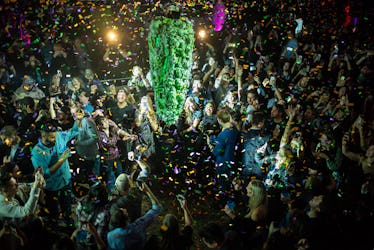 These Hilarious Tweets About Canada Legalizing Weed Won't Harsh Your Mellow
Ian Willms/Getty Images News/Getty Images
Who doesn't love Canada: the land of maple syrup, hockey, and Justin Trudeau? But on Wednesday, Oct. 17, there's another reason to love the neighbors to our north, as Canadians break out the bongs, line up at local dispensaries, and celebrate the fact that weed has just been legalized. So whether you're a jealous onlooker or a lucky Canadian, these tweets about Canada legalizing weed definitely won't harsh your mellow.
On Wednesday, Canada became the second country — after Uruguay — to legalize the possession and use of recreational marijuana nationally, according to BBC News. Starting on Oct. 17, people ages 18 and over will be able to legally carry and share up to 30 grams of marijuana, as per a bill that was initially passed in June.
As you can imagine, Canadians were quite excited by the prospect of legal weed. Ian Power, one of the first people to buy legal marijuana in St. John's on Wednesday, told CNN he doesn't even intend to smoke the purchase, just keep it to mark the occasion. "I'm having a plaque made with the date and time and everything," he said. "This is never actually going to be smoked. I'm going to keep it forever."
Power wasn't the only one excited about the new legislation, the Twittererverse was filled with tweets about Canada legalizing weed — and let me tell you, they were all as hilarious and entertaining as you'd expect.
Not to point out the obvious, but Twitter couldn't let recreational weed legalization go without at least one joke about the future of the snack industry.
There were also some provisions involved, a little instructional starter kit to help folks out on their journey with weed — because absolutely no one in Canada ever smoked weed before it became legal. Not at all.
Canada is definitely going through some changes and people are starting to notice.
Can Canadians get any better?
Out of all the tweets, though, I think my favorites are the jealous American tweets that were so very thirsty.
While the celebration is in full swing, it's still not that easy... yet. According to CBC news, some stores might face a supply issue at the start due to higher volumes of buyers. The good news is, however, that weed can be bought legally online (in Canada). In fact, Lifehacker reports that there are some Canadian provinces, like Ontario, where weed can only be bought through online retailers. But, the site also reports that they might offer brick and mortar retail options in the future as well.
The legalization of weed in Canada doesn't only benefit the recreational users, but it could also give those convicted of drug charges a reason to celebrate as well. According to CNN, Canadian authorities will announce a plan to pardon people who were convicted on possession charges of 30 grams or less.
With all this news, I think after Oct. 17, Canada will be known for maple syrup, hockey, Trudeau, and a spike in tourism.