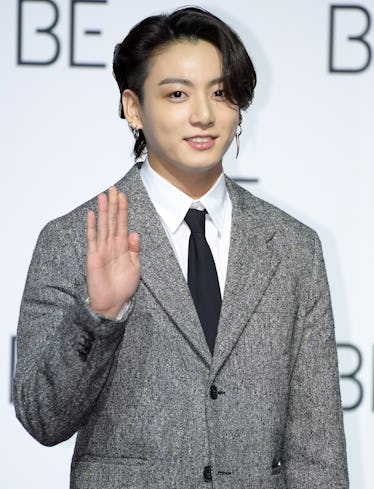 Jungkook Dyed His Own Hair Blue & ARMYs Are Losing It Over The Results
The Chosunilbo JNS/ImaZinS/Getty Images
Jungkook has a new hairdo, y'all. The BTS member took to Twitter on Feb. 24 to show off his new electric blue hair, and the photo is taking the ARMYsphere by storm. These tweets about BTS' Jungkook's new blue hair are a lot.
Jungkook is definitely no stranger to experimenting with new hair colors. He's become quite the chameleon, and fans are always waiting to see what hue he pulls out next. Throughout part of 2019, he had bright red tips, that then changed to a greenish-blue. More recently, in 2021, he switched things up with bleach-blonde hair.
Jungkook can seemingly pull off any color, but fans were totally taken aback when he dropped a photo of his new blue hair. Some questioned whether his hair was really blue or whether he had edited the photo.
"I'm literally in shock i can't believe Jungkook dyed his hair blue. I thought it was edited," one fan tweeted. "I WAS ON MY PRIV THEN BOOM BLUE HAIR JUNGKOOK I WAS LIKE WAIT WHO EDITED THIS???? THEN IT WAS NOT EDITED," another fan said.
Sure enough, the new 'do is real. Check out Jungkook's new blue hair for yourself below.
Jungkook's hair caused such a ruckus on the internet that his name trended worldwide, and his tweet surpassed 2 million likes in less than 10 hours. Apparently Jungkook was feeling spontaneous, because he didn't even enlist any help to create his new hairdo. "Dyed my own hair," he captioned his post, according to fan translations. Naturally, fans are losing it over the ~major~ update.
Nearly all of the BTS boys have switched up their hair color at one point or another. Never forget Jimin's vivid orange hair, or the time Jin dyed his hair purple. If there's anything to be learned from Jungkook's latest tweet, it's that he looks good no matter what hair color he's sporting, and he'll continue to keep fans on their toes.