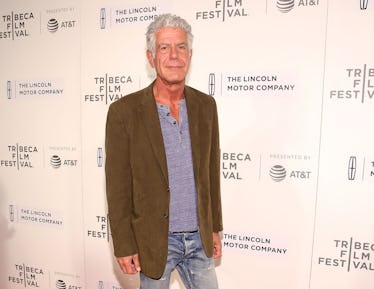 People Are Paying Tribute To Anthony Bourdain On Twitter & It's Emotional
Robin Marchant/Getty Images Entertainment/Getty Images
There was more sad news in the celebrity world this week as it was revealed that Anthony Bourdain was found dead on Friday, June 8, 2018. The talented chef and television host was 61 years old, and his fans are missing him already. These tweets about Anthony Bourdain's death pay tribute to Bourdain as fans remember the iconic storyteller.
Bourdain traveled the world and connected with people through sharing meals and learning about their daily lives. Bourdain was in France for work on an episode of his CNN series, Parts Unknown, when his close friend and fellow chef Eric Rippert reportedly found Bourdain unresponsive in his hotel room on Friday morning, according to CNN. The network reported that Bourdain sadly died by suicide.
When the devastating new broke, fans immediately took to Twitter to share their fondest memories of Bourdain and his work. CNN shared a statement about the passing of the adventurous chef, television host, and writer. The network said,
It is with extraordinary sadness we can confirm the death of our friend and colleague, Anthony Bourdain. His love of great adventure, new friends, fine food and drink and the remarkable stories of the world made him a unique storyteller. His talents never ceased to amaze us and we will miss him very much. Our thoughts and prayers are with his daughter and family at this incredibly difficult time.
Bourdain is being widely remembered as an individual who made the effort to find connections wherever he went.
With his shows like Anthony Bourdain: No Reservations and A Cook's Tour, Bourdain took you to places around the world, and he showed you how to connect with people wherever you are. Food was always a part of his travels, but sharing meals with people in effort to understand their way of life was what it was all about.
It's clear from the fans' tweets that Bourdain made an impact on the lives of people who knew his work. His shows were about making connections with people who you might thin you have nothing in common with, but Bourdain simply asked questions in order to learn as much as he could about the people of the places he visited. Fans are mourning the loss of someone who seemed to only want to bridge the gaps between the unknown parts of humanity.
Bourdain turned his celebrity into a way to to teach people about other people and places around the world they might never otherwise have a chance to see. Previous to his enlightening travel shows, Bourdain was mainly known as an acclaimed chef. He first gained fame in 1999 with an article published in The New Yorker called Don't Eat Before Reading This.
Following the notoriety of his 1999 piece, Bourdain published Kitchen Confidential : Adventures in the Culinary Underbelly and other prolific titles like No Reservations and Medium Raw. It was partly in thanks to the success of his cooking and writing careers that Bourdain was afforded the ability to create the television shows that took his viewers across the globe and into the homes and cuisines of the people he connected with while on a journey of human discovery.
It was amazing to watch the way Bourdain could turn a simple meal into a cultural education, and his fans and viewers will be forever grateful for him and his ability to make those connections. He will be sorely missed, but his legacy will live on in the many lives he touched.
If you or someone you know are experiencing suicidal thoughts, call 911, or call the National Suicide Prevention Hotline at 1-800-273-8255 or text HOME to the Crisis Text Line at 741741.