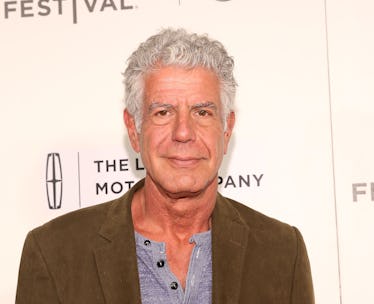 Anthony Bourdain Is Dead At 61 Years Old & It's Heartbreaking
Robin Marchant/Getty Images Entertainment/Getty Images
It's an incredibly sad day when anyone passes... especially when you almost feel like you knew them personally. Talented storyteller, television personality, and writer, Anthony Bourdain, has been found dead at 61 years old. I am so, so heartbroken.
Bourdain was in France working on an episode of his hit CNN series, Parts Unknown, when he died. On the morning of Friday, June 8, French chef and close friend, Eric Ripert, reportedly found Bourdain unresponsive in his hotel room, per CNN. After a bit of investigation, CNN confirmed that the Bourdain died of suicide.
On Friday morning, the network offered the sorrowful statement below:
It is with extraordinary sadness we can confirm the death of our friend and colleague, Anthony Bourdain. His love of great adventure, new friends, fine food and drink and the remarkable stories of the world made him a unique storyteller. His talents never ceased to amaze us and we will miss him very much. Our thoughts and prayers are with his daughter and family at this incredibly difficult time.
Bourdain was an artist in every sense of the word. His career began in the kitchen as a renown chef before he transformed into a media star as a writer and TV personality.
After years of cooking and advocating for safer working conditions in restaurants, in 1999, Bourdain wrote a New Yorker article titled, Don't Eat Before Reading This, which soon became famous. The article kicked off his extensive writing career, and was turned into his best-selling book, Kitchen Confidential : Adventures in the Culinary Underbelly. Bourdain ended up coming out with other well-known titles, such as No Reservations and Medium Raw. But, his talents went far beyond both cooking and writing. With his lively and undeniably charming personality, Bourdain was able to host several popular — and quite interesting — TV shows.
Bourdain hosted several programs that truly showed him in his element and enjoying the finer things in life: traveling, meeting new people, exploring various cultures, and, of course, eating different kinds of delicious food. He started out hosting The Food Network's' A Cook's Tour, per CNN, before moving on to the popular Travel Channel series, Anthony Bourdain: No Reservations. No Reservations ended up earning two Emmy Awards, and got nominated for several others. After his time on The Travel Channel ended, Bourdain went on to film 11 full seasons of his CNN docu-series, Parts Unknown, which was honored by the Peabody Awards in 2013 for "expanding our palates and horizons in equal measure." It's an extraordinary watch, if you haven't yet seen it. I highly recommend it.
While the chef, writer, and TV personality had been described as the culinary realm's "original rock star" and "the Elvis of bad boy chefs," according to CNN, Bourdain was also an activist. According to The Washington Post, the star became a vocal advocate for Jason Rezaian, a Washington Post journalist who had been imprisoned by Iranian officials for 544 days. Rezaian wrote a memoir that was later acquired by Bourdain, before he appeared alongside his wife on Parts Unknown.
Bourdain leaves behind one 11-year-old daughter, Ariane Bourdain. He raised her alongside Ottavia Busia, whom he'd divorced in 2016, according to Good Housekeeping. He was reportedly quite close with his daughter.
My deepest condolences go out to Bourdain's entire family, as well as his many friends, colleagues, and fans. Not only was Bourdain a bright and artistic personality in the world of food, but he was an extremely talented writer, an activist, and a father.
If you or someone you know are experiencing suicidal thoughts, call 911, or call the National Suicide Prevention Hotline at 1-800-273-8255 or text HOME to the Crisis Text Line at 741741.