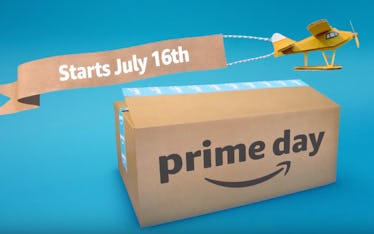 These Tweets About Amazon Prime Day 2018 Will Get You Excited To Fill Your Cart
Amazon Prime Day is the holiday that you never knew you needed. The first deal day only began in 2015, but it has quickly gained a loyal following. With some serious savings on expensive products that you might otherwise leave on a wish list, it's no wonder that people get hyped for this sale. Fans of Prime Day aren't shy about expressing their fondness for the deals that are almost too good to be true. These tweets about Amazon Prime Day 2018 will get you so excited to shop this year's bigger-than-ever sale.
If you're not familiar with Amazon Prime or Prime Day, then let me fill you in on how these two help me empty my bank account faster than you can say, "Unlimited free shipping." An Amazon Prime membership costs $119 per year or $12.99 a month — with reduced prices for students — and it gives you access to the hottest deal day of the summer: Amazon Prime Day. Hot tip: New members can sign up for the 30-day free trial of Amazon Prime for access to Prime Day.
Amazon Prime Day 2018 is bigger and better than ever before (and no, this is not a false informercial promise). 2018 Prime Day starts at 12 p.m. PT on Monday, July 16, and it runs for 36 hours through the end of the day on July 17, which is six hours longer than 2017's 30-hour Prime Day sale.
To put it simply, people are pumped about Prime Day.
There are instances when only emojis can truly represent your excitement, and Prime Day is definitely one of those times.
Some Amazon Prime members are worried they might not be able to control themselves with all of the sales going on.
Others realize that Prime Day deals give you that same excitement as when you used to sneak downstairs to see all of your presents on Christmas morning.
TBH, I can totally relate.
Prime Day excitement is even giving the other biggest shopping day of the year some competition.
I can't blame Prime members for showing their love for the sale with their excited tweets, because you guys, the deals are freaking amazing. Jeff Wilke, Amazon CEO Worldwide Consumer, shared what's new for 2018 Prime Day in an Amazon press release that announced the deals. Wilke explained, "Prime members will enjoy a day (and a half) of our best deals, with 36 hours to shop more than one million deals worldwide."
With 36 hours to snag major discounts on Amazon Prime services — like Amazon Music Unlimited and Kindle Unlimited — it's hard to keep quiet about Prime Day. For those interested, new members can get four and three months, respectively, of Amazon Music Unlimited and Kindle Unlimited for only 99 cents each. Furthermore, Wilke shared the exciting news in the release that Prime members have access to more deals in 2018. He explained:
New this year, members can shop exclusive Prime Day Launches from hundreds of brands worldwide, enjoy exclusive savings at Whole Foods Market.
Some of the exciting launch items for U.S. Prime members include the first Alexa-enabled kitchen faucet, the Delta Trinsic Touch2O voice-activated faucet, and the "Moto G6 64 GB, an exclusive version of the best-selling unlocked Android smartphone featuring a brilliant 5.7" Full HD+ Max Vision display with 4 GB of RAM and 64 GB of internal storage," per the release.
U.S Prime members can also take advantage of Prime Day deals at Whole Foods Market. Amazon owns Whole Foods Market, and now Prime customers can reap the rewards of the company's August 2017 acquisition during this year's Prime Day. Prime members get an extra 10 percent off sale items at Whole Foods Market stores on Prime Day, and you can get 10 percent back on your Whole Foods purchase when you use your Amazon Prime Rewards Visa from July 14 through July 17.
With deals on all of the products you love, there are plenty of reasons to shop during Amazon Prime Day. Again, the Prime Day 2018 sale runs from July 16 though July 17, so get shopping (if you haven't already).