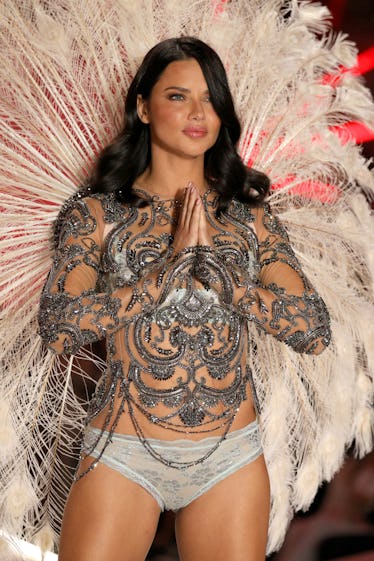 Twitter Is So Emotional Over Adriana Lima's Victoria's Secret Retirement
Thomas Concordia/Getty Images Entertainment/Getty Images
It's the end of an era, folks. We all know that 37-year-old model Adriana Lima has been a huge part of Victoria's Secret history, walking down the runway in angel wings a whopping 18 times, and looking even more radiant year after year. There's a reason why the 2018 Victoria's Secret Fashion Show was an emotional one for Lima: After this year, she's finally hanging up her wings and retiring. She's been a fan favorite for many, many years, and these tweets about Adriana Lima's Victoria's Secret retirement prove just how much she was cherished on the runway.
The show, which was taped in New York City on Nov. 8 and will air on ABC on Dec. 2., featured plenty of famous faces and names, but it was when Adriana Lima strutted down the Victoria's Secret runway by herself, emotionally tearing up when she reached the end of the runway, that made the audience rise to their feet to cheer her on as she walked one last time.
After 20 years of working with the brand, Lima took to Instagram on Thursday, Nov. 8, to thank Victoria's Secret for all of the cherished moments she's been able to share with them. She wrote,
Dear Victoria, Thank you for showing me the world, sharing your secrets, and most importantly not just giving me wings but teaching me to fly. And all the ❤️ to the best fans in the 🌎! Love, Adriana 💖
The video she posted was a collage of clips that were taken through the years, including footage of Lima from years ago, walking down the famous catwalk and showing off the variety of looks she was able to wear on the runway:
I'm not crying, you're crying! OK fine, I am crying, but don't judge me right now. I'm in a dark place.
And apparently I'm not alone in my sadness, because fans of Adriana Lima took to Twitter to share their devastation over finding out that the VS model was finally retiring:
Some people stated the obvious:
While others refused to accept or believe that Victoria's Secret could go on without her:
And one user just said it best, noting that Lima is "one of a kind":
BRB, sobbing.
On a happier note, if you want to peruse through Lima's stellar looks from this year's show, you can check those out below.
Here she is looking over-the-moon about this outfit (see what I did there?):
And here she is strutting her stuff, looking beyond regal in this feathery sequin getup:
Do you see how happy she looked walking front and center with her clique?
But nothing — and I mean nothing — will prepare you for the moments captured as she walked to the end of the runway for the last time, taking it all in:
And she was visibly tearing up, before waving to the audience and walking back down the runway:
Beautiful and sad at the same time.
Lima spoke with People magazine about her retirement and said, "I think this year is going to be the highlight of my career. This has been my 18th fashion show and I am still as excited as I was from the first day. I always love to be on runways and being part of the Victoria's Secret show. It [sic] my favorite to do."
She added, "You guys are going to love this year's show. To me it is definitely going be [sic] very special."
Well, Adriana, you certainly did not disappoint. We thank you for the countless years of looks you provided all of us VS fans. You'll always be an Angel in our book.