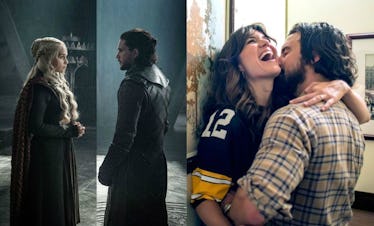 These 5 Couples From Your Favorite TV Shows Make For The Perfect Couples Costumes
HBO/NBC
Going out for Halloween is fun when you get to dress up as your favorite characters. But when you're going with your significant other, why not double the fun and dress in outfits that work together? The best Halloween outfits are the ones that work as a pair, especially when they're a couple everyone knows from TV. These TV couples costumes are some of the easiest to pull off and will have the extra benefit of everyone recognizing who you are pretending to be.
While some of these costume ideas are based on shows on the air right now, there are some that are just as easy and classic TV shows to boot. All of these are DIY outfits that won't break the bank either, and most of which can be ordered on Amazon, so it'll be at your door with two-day shipping if you have Prime.
I've rounded up easy DIY ideas for everything from high fantasy sci-fi to stuff you probably already have in your closet, from stuff airing on premium networks and streaming to stuff that's been around so long, even your parents will be able to guess who you are.
So let's run down five of the easiest TV couple costumes to wear for the biggest Halloween party of the fall this year.