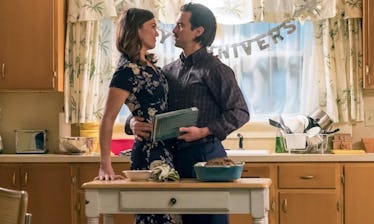 Mandy Moore Just Opened Up About 'This Is Us' Season 3 & I Can't Wait
NBC
This Is Us will be entering its third season this fall. The NBC drama has undoubtedly become of one TV's most celebrated hits, serving up stirring family stories week after week over the past two years. The series has managed to introduce intriguing twists and go down new narrative avenues (yup, they totally time-jumped to the future) and it sounds like it will keep things interesting as things move forward. If you're wondering what to expect, Mandy Moore's This Is Us Season 3 details tease that the show's next chapter won't disappoint loyal fans. The actress told TV Guide:
I would say buckle up. There is going to be some great stuff unfolding in Season 3. I am really, really excited for everyone — for Beth, for Toby, like their own stories, learning more about everybody, getting a fuller picture of who jack and Rebecca were when they first started dating, who Jack was during the Vietnam War. It's going to be good. I feel like it's our most ambitious — but it's going to be the best season yet.
Well, that's promising. As far as television history goes, Season 3 is a hit or miss telling point for a show. Season 3 of The Leftovers? Perfection. Season 3 of Lost? Eh, honestly, I'd skip over it now. Hopefully, This Is Us will end up in the former example's league of success stories alongside Friends and The Sopranos. And no disrespect to Lost — the show made up for it in subsequent seasons.
Hints regarding the Pearson fam's future (and past, because this show is all about taking viewers on a historic journey to show what made the characters the people they are in the present day) have been bouncing around since Season 2 aired its finale.
"We've shown people what this show can be and all of the different multitude of directions we can go in," Moore also explained to TV Guide.
The mystery surrounding Jack's death was the big question last season and even though it's been uncovered, the Pearson patriarch's life is still an open book with plenty of pages to devour. This Is Us is slated to further explore his wartime experience and go deeper into his younger years.
"We're definitely going to see Jack in the Vietnam era," Milo Ventimiglia divulged to People in April. "At the end of the Super Bowl episode when people were ultimately confronted with how he passed away, there was a trailer to show Jack in a helicopter over Vietnam in uniform. We're going to explore that side of Jack's 20s and what brought him into the man that we all knew."
As Mandy noted, Toby (Chris Sullivan) and Beth (Susan Kelechi-Watson) will get a chance to step into the spotlight for upcoming episodes. Going beyond the core Big Three and into the psyches of their fan-fave spouses is just what the hungry viewers ordered.
"We have some stuff coming for Beth right away early in Season 3, where you really learn about her and where she comes from and what her background is, that I think is going to be really exciting for the audience," showrunner Dan Fogelman told E! News.
"You're going to be surprised what Toby and Beth were like before they entered this family," Fogelman has also stated, according to Entertainment Weekly.
This Is Us will also expand on how Miguel entered the Pearson picture. Season 2 revealed Facebook had a hand in setting him and Rebecca up, but it's time to dive deeper.
And as for that shocker of a flash-forward that saw older Randall and Tess dreading visiting an unknown "her"? That revelation will likely throw everyone for a loop.
"I can tell you it's probably not what you suspect. In classic Fogelman style, it will be like, 'Oh, wow — didn't see that coming,'" Sterling K. Brown told EW.
Man, there's so much to learn about these people.
This Is Us Season 3 premieres Tuesday, Sept. 25 on NBC.