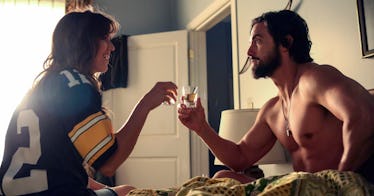 Mandy Moore's & Milo Ventimiglia's 'This Is Us' Audition Tapes Will Make You So Emotional
NBC
This Is Us returns for a third season beginning next week, and fans up and down the country are readying their tissue boxes in response. Ahead of the premiere, The Paley Center for Media (which began when the Museum of Television & Radio and the Museum of Broadcasting merged into one entity) put together a tribute to the show, which brought back emotional family-friendly TV to the 8 p.m. hour just as networks began to think prestige TV had left the genre for dead. Their tribute included This Is Us audition tape videos never seen before by fans, which showed just how the stars of the series landed their roles.
Jack and Rebecca are the show's central couple. Actress Mandy Moore, who has been in show business as both a singer and an actress since her teens, was one of the first to get ahold of the script and start vying for the part of Rebecca.
As she tells it, she had been doing the pilot routine for several years with various series, none of which got picked up to go to a full season. When she heard about this series, she glommed onto it and was one of the first to hit the audition room to try and get the part.
As for Milo Ventimiglia, who plays Rebecca's husband, Jack, his first audition tape was taken from the speech in the hospital when Rebecca is in labor, and everything seems to be going wrong.
His footage is mixed in with Chrissy Metz, who auditioned for and landed the part of the adult version of Kate Pearson. As she describes it, roles like this one for women who look like her don't come along ever, and it was a tough set of competitors she had to face down to land the role.
Sterling K. Brown has taken home an Emmy for Outstanding Lead Actor, a Golden Globe for Best Actor In A Drama Series, and a Screen Actors Guild Award for Outstanding Performance By a Male Actor for his performance as Randall Pearson in This Is Us.
As Brown tells it, he got the script for the audition while he was filming another series he took home Supporting Actor nods for, The People v. O. J. Simpson: American Crime Story. He read it while sitting at the prosecution table.
Meanwhile, Susan Kelechi Watson, who plays his wife, Beth, admits she was about to leave Hollywood behind when she landed the part.
It's hard to imagine any of these roles being played by other actors and actresses now, two seasons and multiple emotions in. With Season 3 promising to push forward to new time periods, including going back into the early 1970s when Rebecca and Jack first met and then forward into the future where Randall's daughters have grown up, it will be interesting to see where all of these actors take their characters going forward.
This Is Us Season 3 premieres on NBC on Tuesday, Sept. 25, 2018 at 9 p.m. ET.