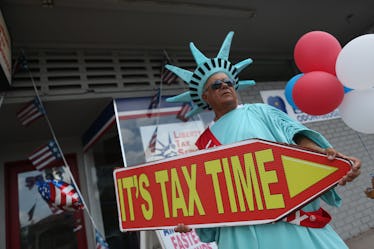 These Hilarious Memes About Taxes Are Here To Help You Through The Season
Joe Raedle/Getty Images News/Getty Images
It's all cool during the year when you have enough money for some avocado toast and new sunnies. But then the months start rolling and you know that the worst is coming: tax season. The thought of having to be an adult and do your taxes is not at all fun. But don't worry, as usual the Internet has come through for us. These memes about tax season are sure to make the grueling process just a tiny bit easier... at least for a few minutes.
The one thing most of us can agree on is that taxes are not very glamorous. There are all these forms that are supposedly different, but look identical. Then there's the fact that you realized that saving all your wine receipts does not actually count as being responsible and that's not how taxes work (trust me, I've tried).
The deadline to file your taxes is Tuesday, April 17, and going at it on your own can be kind of tough. Sometimes, it's just good to know that when facing the nightmare that is tax season, there are others out there who are commiserating with you. So look no further than the internet. These memes have really helped me through this tough time, so allow me to share the gift of laughter with you. You can thank me later.