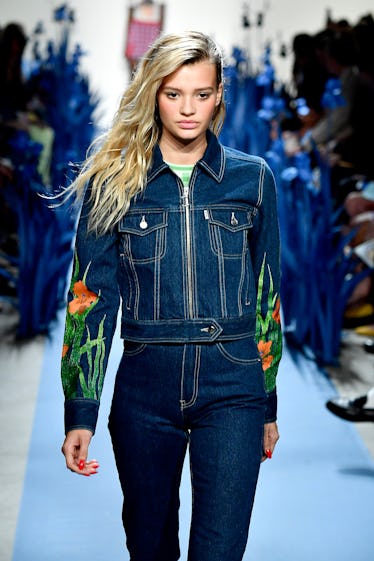 Summer's Hottest Denim Trends Will Make You So Nostalgic For The '90s
Frazer Harrison/Getty Images Entertainment/Getty Images
I've said it once and I'll say it again: denim is my absolute favorite thing to wear. I own more pairs of jeans and jean shorts than I probably should but they're so dang comfy, versatile, and cool that I just can't stop feeding my addiction. And now, summer 2018 denim trends are here to make my shopping habit even worse (slash better, depending how you look at it). The three most unique ones are so good, in fact, that I (shockingly) don't have a single one of them in my current wardrobe. What's a girl to do but take herself out on a shopping spree?
The best thing about denim is that no matter how it's treated, distressed, or otherwise embellished, you can still wear it with a myriad of tops. It's the one fabric that's technically a color but also a neutral, and is so ubiquitous that it has been made into every silhouette, style, and thinkable creation. Designers like Claudia Li, Matthew Adams Dolan, Adam Selman, Calvin Klein, and more have reimagined denim so cleverly within their high-fashion collections that exceedingly creative designs have trickled down into the fast fashion market. What does that mean for those of us who can't drop $900 on a new pair of pants? We can channel runway trends through affordable buys. Here are the three you'll be seeing everywhere this summer.
Paint the Town Blue
I love this denim trend for so many reasons, the most important one being that it's 100 percent DIY-able. Painted denim, in all of its imperfect glory, is having a moment, and I honestly can't wait to take a brush to a pair of my favorite vintage Levi's 501 jeans. The trend walked the runways at Calvin Klein, ODLR, Public School, and Adam Selman, and proved that denim can absolutely double as a canvas. From splatters to tulips and everything in between, paint took shape in many ways to transform plain indigo slacks, skirts, and shorts into wearable masterpieces. Here are a few of my favorite shoppable iterations below, but I encourage you to channel your inner Picasso, Pollack, or O'Keeffe and dream up your own creation.
'90s Redux
I wax poetic about '90s fashion all the time but mainly mention the floral dresses, combat boots, and rocker-inspired styles that made that decade so incredibly rad. The denim, though, was top notch, too, and now it's back in its baggy glory. From oversized jean jackets to UFO pants, bigger really is better in regard to this trend, and as someone who loves playing with proportion, I can't wait to rock it. Thinking of '90s style will forever conjure images of all of the pop and R&B princess from that time in my mind — Aaliyah, Beyoncé, Gwen Stefani, etc. — rocking baggy denim pants and crop tops. I think that's about to become my signature look.
Deep, Dark Secret
Forget about acid wash or so-light-it's-almost-white denim. As silly as it might sound, dark wash denim is in for the hottest months of the year. Thankfully, it's in for all silhouettes — dresses, skirts, and shorts included — so you won't have to roast in full-on pants or a jacket to test out the trend. If you want to go the extra mile with it, try opting for a dark wash Canadian tuxedo, as pictured above. It has an incredibly polished, almost professional look to it (you'd never be able to say that about an acid wash co-ord) and would pair excellently with a red lip and gold hoops for a brunch with friends or night out dancing.