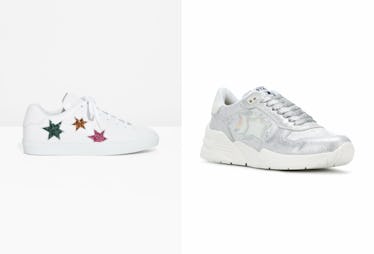 Nail 4th Of July Style With These Brilliant Star-Emblazoned Sneakers
& Other Stories / Farfetch
When Saint Laurent dropped their cool AF sneakers with stars—you know the ones—I lusted after a pair of my own. But seeing as my salary doesn't allow me to splurge on pairs of shoes that cost upwards of $600, I had to resign myself to settling for a non-designer pair. I never actually bought sneakers emblazoned with celestial bodies of any sorts (Vans Old Skools and I started our ongoing romance at that time) but seeing as all things galaxy and twinkly are having another major moment, I thought I'd revisit the style. After looking at the options out there I've realized I don't have to "resign" myself to anything—they're so good that I've forgotten all about the Saint Laurent pair. Well, almost.
There's something about star-emblazoned sneakers that melds kitschy cool with streetwear chic. You can wear them with plain jeans and a tee and look instantly rad, or you can pair them with dresses of clashing patterns and colors for a mix master effect. And seeing as 4th of July is right around the corner, there's never been a better time to invest in a pair of your own. I'm someone who hates wearing red, white, and blue in overkill manner for Independence Day—stars are how I prefer to show my patriotism sartorially.
Below, nine of the coolest pair of affordable starry sneakers.
Silver Linings
Part retro dad sneaker, part futuristic cool, these sneakers are uber shiny, feature holographic stars, and even have laces that glitter. What more could a galaxy-loving girl want?
Let It Slip
Like wearable galaxies. If you're not into fiddling with laces, these slip-on sneakers might be for you. Thanks to the chunky sole and streamlined silhouette, they're super futuristic and sciencey—Lance Armstrong would approve.
Twinkle, Twinkle
Rainbow glitter is literally never a bad thing, especially when formed into the shape of a star. These sneakers boast a classic Stan Smith Adidas-like silhouette but boast a slightly elevated sole.
Dark Matter
The closest thing to the Saint Laurent sneakers for a fraction of the price. These are my favorite of the bunch, likely because they're grounded in black laces and details. Black and denim constitute 90 percent of my closet so yeah, these would fit right in.
Ultra Violet
Okay, so these are more millennial lilac than ultra violet (I wanted a space name, okay?), which makes them even trendier that I initially suggested. Converse One Stars never go out of style and this pair in particular boasts a soft suede finish. Thanks to its floral tone it would look amazing with equally soft floral dresses.
Shine On
These look like robot feet and I am all about it! their high gloss sheen looks like literal metal, but its harshness is balanced out with some sporty mesh inserts, some of which are in the shapes of stars. The chunky white platform elevates the shoes to a whole other level of cool.
Steps For Mankind
Streetwear-style sneakers that would fit right in on the moon. These super chunky boot-like sneakers kind of remind me of astronaut boots, just infinitely cuter. The graphic star design on their side and exaggerated treads give them an extra cool look.
Rainbow Brite
Chase the rainbow in these equally colorful sneakers—the star parts, at least! They look like little explosions of glittery color. Happiness in a shoe.
Written in the Stars
Old school sneakers get an out-of-this-world upgrade with star motifs and laces that read, "Do what you love." That's the best advice in the whole universe and if you've taken it and adore what you do, count your lucky stars.