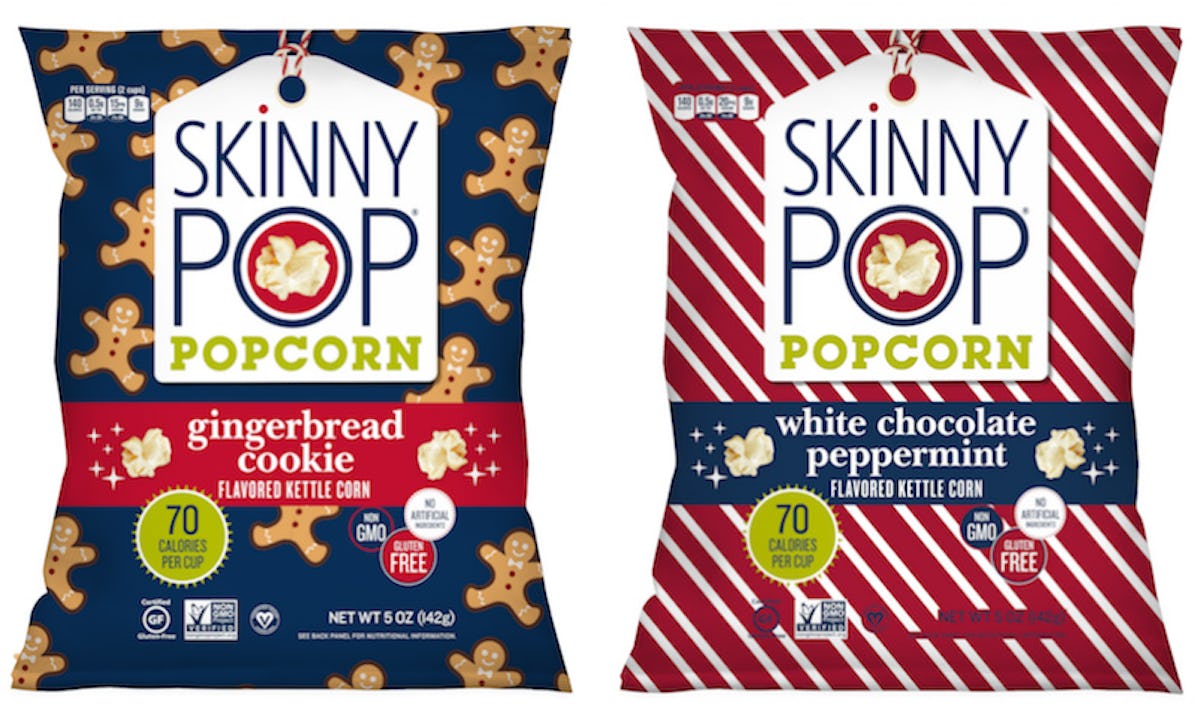 SkinnyPop's New White Chocolate Peppermint Flavor Will Get You In The Holiday Spirit
SkinnyPop
Many of you might not be able to relate to what I'm about so say (so I apologize ahead of time), but out of all of the things I could be excited for right now, I'm pretty much just waiting for the most wonderful time of the year to roll around. Yes, I'm well aware of the fact that Halloween hasn't even happened yet, but the wintertime holidays just happen to bring the best seasonal snack foods. From peppermint-flavored everything, to white chocolate crumbles, and, of course, gingerbread galore, I seriously love it all. And if you aren't completely convinced, these SkinnyPop Holiday Popcorn flavors will definitely get you psyched for the merriest season of the year.
SkinnyPop is coming in totally clutch this holiday season with not one — but two highly desirable, limited-edition holiday flavors. First and foremost, according to SkinnyPop, there's the White Chocolate Peppermint popcorn, which is pretty much all I would ever want to munch on, while cozying up to a warm, roaring fire. I'd read my book while all of Michael Bublé's greatest holiday hits softly play in the background. No, shockingly, this isn't a scene from your favorite Hallmark movie, but it sure sounds like it could be.
Next, there's the Gingerbread Cookie popcorn, a treat that pays homage to my dear old pal, the Gingerbread Man. Between that sharp ginger taste and hints of cinnamon sugar, there's seriously nothing better than flavors from the classic cookie. Oh, and full disclosure: no gumdrop buttons were harmed in the making of this glorious snack food.
I guess it's a little early to start thinking about sleigh bells ringing and snow falling, but it's not my fault — these irresistible new flavors started hitting shelves early AF, during the first week of October 2018, according to a SkinnyPop. But, since their release, I haven't been able to get these holiday flavors off my mind. If you haven't started seeing them in your snack-food aisle, though, not to worry — they'll continue to roll out to major retailers throughout the rest of 2018. I don't know about you, but I am so ready for this.
If SkinnyPop's new holiday flavors don't quite bring enough holiday spirit to your snack bowl, the UK just won Christmas with Christmas tree-flavored potato chips. Yes, you heard that correctly, and they're called Luxury Christmas Tree Flavor Salted Hand Cooked Crisps. According to the company that sells the snack, Iceland, the chips are sprinkled in in pine salt seasoning, as well as pine oil. One bag goes for £1 (which is equivalent to about $1.30 USD), and I don't know about you, but I'm kind of dying to give 'em a shot.
It looks like Christmas came early in the popcorn isle — clearly, I'm not mad about it. Between the White Chocolate Peppermint and Gingerbread, each flavor sounds absolutely delightful. Even if you aren't about the holidays coming early, everyone just needs to accept the fact that Santa came early. Deal with it (and enjoy the tasty flavors!).