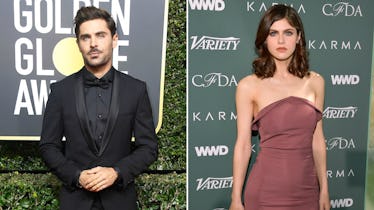 These Photos Of Zac Efron & His Rumored Girlfriend Will Make You So Happy
Getty Images Entertainment
Hear ye, hear ye, I have some important news to announce: Baywatch co-stars Zac Efron and Alexandra Daddario are reportedly dating, and I'm both happy and sad about this. Happy because they actually look adorable together, and sad because that means Zac Efron is off the market and he probably won't be answering any of my fan mail asking him out. (Don't you dare tell me I didn't stand a chance, because I am a total catch.) But that sadness subsides every time I see photos of Zac Efron and Alexandra Daddario together, because something about the two of them just clicks, and I can put my jealousy aside and truly ship this couple.
According to People, a source said that Efron and Daddario have been seeing each other "on and off since their time working together on the movie last year, but they are not officially dating."
This is a bit of a departure from what Daddario had to say about her relationship with Efron back in May, telling E! News at the Billboard Music Awards that they are just friends and nothing more:
We work together closely; he's my love interest in the film. I understand why people would go crazy over something like that, but Zac and I are very good friends.
She then joked, "We would have very blue-eyed children, wouldn't we?"
Very blue-eyed children, indeed, Alexandra.
While the pair never confirmed their reported relationship, fans questioned their status once more on Wednesday, March 28, when the two were spotted shopping for their dogs at a Los Angeles pet store (and OMG, could there be anything more incredible than a pet store date?), where eyewitnesses saw Efron and Daddario "enjoying themselves, laughing while sitting in traffic in Daddario's white Ford Explorer," according to Elle.
And look, while we haven't exactly gotten confirmation from either of the actors, just merely looking at photos of the pair together definitely shows that these two have major chemistry between them.
Look at how intense Alexandra's gaze is while staring at Zac:
Smoldering. Smoldering is the word that comes to mind.
And look at how happy they are together in this photo:
Do you look like that when you're with someone who's just a friend? Come on.
If you weren't sold on the idea that Alexandra and Zac are an adorable couple, consider taking a look at this photo:
This photo couldn't get any more perfect. OK, maybe Zac doesn't need a shirt, but you get the idea.
And here they are once more, while Alexandra is thisclose to leaning on Zac's head:
Can we just see one quick snuggle?
But nothing, and I mean nothing, comes close to Zac Efron's Instagram post for Alexandra Daddario's birthday. He wrote,
Happy birthday to one of the the most real, down to 🌎, stunning, intelligent, creative, loving, and most rare Pokémon ever created #alexdaddario
Look at these two beautiful creatures!
And of course, it gets even cuter. On her birthday, Daddario posted a Boomerang video blowing out her candles, and guess who just happened to be standing right by her side? Yep, none other than Zac:
Be still my heart.
Or perhaps you'd like to see the two of them back in May of 2017, when Daddario posted a ~flirtatious~ selfie of her and Efron:
I know, I know. All the photos point to something more than "just friends." And let's remember: it was in April of 2017 that Efron spoke to Cosmpolitan about finally settling down — the timing of which seems to be verryyy coincidental. He said:
I didn't think much about settling down until recently. Now that I'm getting closer to my 30s, I'm around some great relationships and I've seen expert couples at work. I'm realizing that you have to find your own happiness before you can make somebody else happy.
Zac, if things with Alexandra don't pan out, I know a few people who might be willing to settle down with you.
And obviously, my name is first on the list.