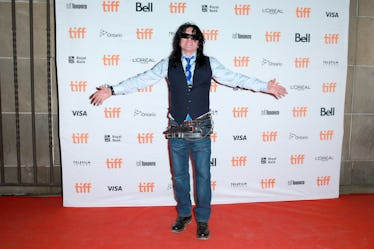 These Tommy Wiseau Photos Show 'The Disaster Artist' IRL & We Can't Look Away
Rich Fury/Getty Images Entertainment/Getty Images
"It's so bad it's good" takes on a whole new meaning thanks to the 2003 cult classic The Room. This phenomenon — as puzzling as it is hypnotic — remains somewhat mysterious, in large part due to its creator. However, photos of Tommy Wiseau — in addition to James Franco's latest project, The Disaster Artist — give us a glimpse at the man behind this fiasco of a film.
For those who need to play catch-up, we've got your back. The Room, a movie that had a $6 million price tag, doesn't flow naturally and appears a bit unorganized (to say the least). Though it was a convoluted attempt at a blockbuster, it ultimately turned into a fan-favorite thanks to that miss-the-mark charm. The 14-year-old flick still has showtimes in various theaters, according to PEOPLE, and it's something that you just need to experience (trust us).
The Room follows Johnny and his unfaithful fianceé, Lisa, who happens to be fooling around with his best friend, Mark (and even decides to start smooching Mark at Johnny's birthday party). There are awkward sex scenes, unconvincing fights, and cringeworthy conversations. Honestly, if you're watching and not cracking up, something might be wrong.
Have a glimpse of the film's best worst moments for yourself — we dare you not to laugh.
Now, The Room is getting a makeover thanks to the Franco brothers, James and Dave. James directed and starred as the Tinsel Town misfit in Dec. 1's The Disaster Artist, which brought Wiseau's story to life. With the help of his baby bro Dave and best friend Seth Rogen, Franco really commits to the role. As wacky as it all may seem, The Disaster Artist looks pretty entertaining.
Though we get a glimpse at the making of the $6 million "drama", there are a ton of questions about the creator that we never really uncover. For example: How did he get $6 million to complete this film? How did he make his fortune? Where was he from? It's all somewhat unknown, though PEOPLE reveals Wiseau was born in Eastern Europe, came to the U.S. early in his life and lived in New Orleans. He supposedly earned the big bucks in retail and is in his '60s, but The Room is his claim to fame.
Regardless of his origins, people who love this movie are always eager to take a pic with Wiseau — just take a look at Twitter.
Here's our guy at events...
Rocking multiple belts...
And hanging with Franco and Jimmy Kimmel.
Somehow, Johnny's story is making a comeback. Even Franco can't believe how this project unfolded. When discussing the making of The Disaster Artist, he told Entertainment Weekly,
It was a movie that I brought to my old friend Seth Rogen to produce, and when we were making it, Seth kept saying, 'This is insane!' I always thought it was a great inspiring story but I guess other people thought it was just bizarre. But somehow we pulled it off.
Much like Wiseau, Franco was the odd man out on SNL on Dec. 9 when he hosted the late-night show. His best buds completely ruined his moment in the spotlight, and it was so hilariously satisfying to watch. In between attempts an attempt at a monologue, Rogen, Jonah Hill, and Steve Martin chimed in and cut Franco off. Much like Wiseau, Franco was the odd man out, the one people weren't really too excited to see (at least according to Hill).
All in all, I'm adding both movies to my must-watch list. Because a good laugh is always in order.
Check out the entire Gen Why series and other videos on Facebook and the Bustle app across Apple TV, Roku, and Amazon Fire TV.