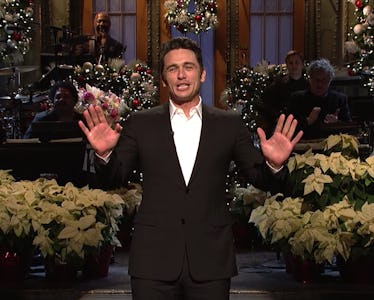 Seth Rogen Destroyed James Franco's Monologue On 'SNL' & He Wasn't The Only One
They say the fifth time's a charm — that's when you get a jacket — but your fourth time hosting SNL, well... that's when you get schooled by your BFFs. You have to earn that jacket, folks, and it looks like our Dec. 9 host learned that the hard way. James Franco's SNL monologue was completely ruined by his famous crew, and it was so hilariously satisfying to watch.
Franco took the stage amid white poinsettias and began complaining about how four-time hosts (like himself) aren't even given a monologue; they're just expected to take questions from the audience. So that's exactly what he began to do, starting with "What time is it?" Then, spotted in the wild — amid one guest's question about the "overarching theme" in Franco's career — fans realized good 'ol Seth Rogen made an appearance for the late-night show, undoubtedly to support his best bud.
"Seth, what's going on man? You're just in the audience to see me host the show?" Franco asked. Like a true friend, Rogen, spoiled the surprise and told everyone what was up. "No, I'm just here to see the show in general. I didn't realize you were hosting it," he said. "I put my name in the lottery for SNL and this is the week I got. It was just totally random." To make things all the more sentimental, Rogen admitted that he lucked out, since he was a huge fan of the musical guest, Sza. Ah, friendship!
Of course, the BFFs decided to banter with one another, as Rogen claimed his seat buddy wanted to know why Franco hosted SNL four times while he only hosted twice (what a coincidence that they both had the same question). Franco got a teensy bit sarcastic and compared his Oscar-nominated films to the ones he makes with Rogen... which are nominated for the "Stonies" (you get where we're going with this). There was definitely a case of drama brooding in this bromance.
That's when another friend came to join Rogen — and give Franco a hard time.
"Sorry I'm late, did I miss Sza?" Jonah Hill asked. He thought Davey Franco was hosting, but when he learned it was David's big bro, he asked, "Oh, people really want to see that?" What a bond these fellas have!
And last, but certainly not least, Steve Martin also chimed in.
He was thrilled to see Franco on the very same stage where he once hosted the weekend comedy show. He only resented Franco "just a little bit." Good thing he wasn't terribly jealous. So, that didn't leave too much time for a monologue from Franco himself but fans certainly didn't mind. Better luck next time.
Try not to LOL as Franco gets interrupted by his best buds.
It was certainly a busy night for Franco, and the entire cast. Santa (Kennan Thompson) received a very lengthy questioning from little kids who wanted to know if the president and Roy Moore were on the naughty or nice list this Christmas. To add to the holiday spirit, Kate McKinnon was joined by Franco in one sketch where they were wrapping presents at Bloomingdales and a paper cut from hell made things truly horrific. We can't forget about that lovely spelling bee and its choice of words for the contestants (yes, we see you trying not to laugh, Franco). It was quite an evening for everyone involved.
So, who out there is ready for Franco's fifth hosting gig?
Check out the entire Gen Why series and other videos on Facebook and the Bustle app across Apple TV, Roku, and Amazon Fire TV.