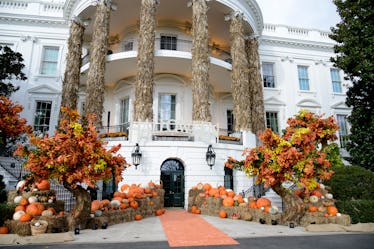 These Photos Of The White House Halloween Party Are Seriously Spooky
Pool/Getty Images News/Getty Images
Halloween weekend may be officially over, but never fear, you goblins and ghouls, because we still have up until Wednesday, Oct. 31 to stay in the spooky spirit. If you're like me, whipping out those Halloween decorations and adorning every inch of your house is one of the most enjoyable parts to this holiday, and judging from these photos of the White House Halloween Party it looks like First Lady Melania Trump feels the same. Seriously, it's spooky and boo-tiful at the same time.
On Sunday, Oct. 28, President Donald Trump and First Lady Melania Trump celebrated their second Halloween in the White House by hosting the traditional White House Halloween party. For the event, children from military families were able to trick or treat at the White House, and the first family was there to hand out the candy themselves. Even though the Trumps themselves chose not to dress up this year, the White House's Halloween ensemble is seriously something to marvel at. Not only were festive pumpkins patches littered throughout the White House entrance, but corn stalks wrapped around the building's large front columns and a decorative orange carpet welcomed the families inside.
To celebrate the impressive Halloween decorations, the first lady took to Instagram to share some photos of the very special holiday.
As much as I personally would have loved to see the Trumps opt for Halloween costumes this year, it's not that surprising the presidential family chose not to. However, I'll give them a pass this time around because those decorations are seriously impressive.
With the perfect backdrop in place, the White House Halloween party was well underway when children from all over the country wore their best costumes and enjoyed tons of candy, Halloween music, and other festivities. From superwoman to army outfits, these children seriously dressed to impress. Then, to wish them a Happy Halloween, the Trumps were there to greet them and hand out some candy.
Decorating the White House for holidays is a much loved tradition, but sometimes over the top decor can lead to some unavoidable jokes. Just take the White House's 2017 Christmas decorations for example, where Melania Trump's decorating was so over the top that it went completely viral. During the 2017 Christmas season, the first lady employed 150 volunteers from 29 states and they filled the White House with a huge assortment of holiday-themed decor. According to TIME, the White House was filled with Balsam fir trees dripping with "icicles" which were trimmed with glass ornaments adorned with seals representing each state and territory. At first, this sounds like a truly magical display, but once photos were released showcasing the decorations, no one could overlook how ominous these trees actually looked along the White House hallway.
Naturally, Twitter had a lot of jokes to make about the Christmas decor. To be honest, these trees feel a little more fitting for Halloween than Christmas.
Those Christmas decorations may have missed the mark, but this year's White House Halloween Party details were perfect to a tee. Can't wait to see what next year has in store.