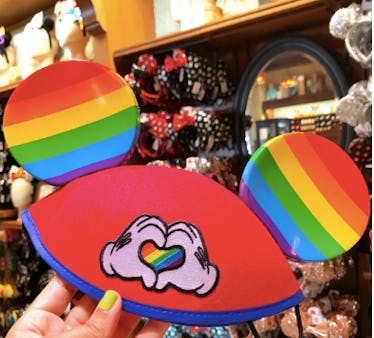 These Photos Of Rainbow Mickey Ears At Disney Will Get You Pumped About Pride
The happiest place on earth strives to accommodate absolutely everybody. If you haven't heard the big news yet, Disney theme parks just introduced one of their greatest merchandise innovations of all time: rainbow Mickey ears. Not only do they seem to be a colorful shoutout to the LGBTQ+ community, but they're also available at all U.S. parks just in time for pride month. So in case you haven't gushed over them a thousand times already, these photos of rainbow Mickey ears at Disney show that they're here to spread all of the love.
Apparently, rainbow Mickey ears are available at Disney World in Orlando, Florida and at Disneyland, in Anaheim, California. They're officially known as the "Mickey Mouse Rainbow Love" hat, and they only cost $18 at shops throughout the parks, according to the Huffington Post. While Disney hasn't explicitly said that they're intended to celebrate pride, Disney fans, as well as members and allies of the LGBTQ+ community, are reading it that way (based on the rainbow stripes along the ears, as well as the embroidered Mickey hands enveloping a rainbow heart in the middle). Not only do the rainbow Mickey ears look absolutely adorable, but they represent spreading all kinds of love — and these photos of them are beyond gorgeous. They will most definitely warm your heart more than any photograph from a Disney park has before.
Although Disney still hasn't officially labeled these limited edition rainbow love hats to represent the LGBTQ+ community, a rep from Disney reportedly told Huffington Post that Disney tries their best to include merchandise which "appeals to guests of diverse backgrounds." Either way, it's definitely a necessary addition to their line of Mickey hats, and I couldn't be happier that it's here in time for Pride Month. They're total must-haves for anyone celebrating this season.
Since Mickey Rainbow Love Hats have reportedly been a super hot commodity this season, fans seeking them out might need to browse through a few different stores before finding one. Even though they're available at Disney World and Disneyland, they're apparently pretty tough to find. According to People, Hornet recommends searching through Emporium, Fantasy Faire, and The Chapeau Hat Shoppe on Main Street in Disney World's Magic Kingdom. You might end up embarking on somewhat of a hunt for one of these elusive accessories, but you know it'll be worth it in the end, when you finally have one.
Since the rainbow Mickey ears aren't available online via the ShopDisney store, fans might have even more trouble finding these babies if they can't make it to a Disney theme park. My advice would be to plan a trip to Disney World or Disneyland ASAP so you can buy the hat in time for Pride Month.
Looking for more Disney photos to warm your heart? Take a look at these service pups who took a trip to Disneyland together earlier this year. Canine Companions for Independence is an organization that trains smart pups to become service dogs, and they took their volunteer "puppy raisers" on one of the most wag-nicifient trips imaginable. Trainers brought the puppers to meet Chip, Dale, and Tigger, pose in front of the iconic Mickey ferris wheel, sport some Mickey ears, and even sit in the spinning teacups together. It only would have been better if the rainbow Mickey ears were available for them to wear.
While getting your hands on a pair of rainbow Mickey ears might require a little bit of exploring, they're definitely a necessity for celebrating Pride. The photos are beyond heartwarming, and they definitely spread the love.