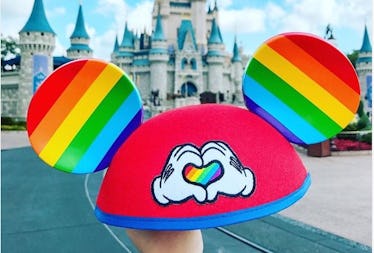 You Can Get Rainbow Mickey Ears At Disney, So Take A Vacay & Show Your Pride
Disney seems to always give its fans what they want when they spend a day at a Disney Theme Park. Whether you are enjoying delicious theme park eats or sporting the cutest Disney gear you could ever want, you'd be hard-pressed to have a bad time at "the happiest place on earth." Well, Disney has done it again with its latest pair of Mickey Mouse ears that feature a rainbow design. Everyone is buzzing about these rainbow Mickey ears that are available just ahead of Pride month. So if you want to show your pride this summer, here's where to get rainbow Mickey ears at Disney.
The good news is the rainbow Mickey ears are reportedly available at Disney theme parks on both the East and West Coasts, according to Bustle. You can buy a pair of rainbow Mickey ears for $18 at shops in Walt Disney World in Orlando, Florida and at Disneyland in Anaheim, California, per the Huffington Post. If you (luckily) happen to find yourself at Disneyland or Disney World, you'll find that these Pride-worthy ears are officially known as the "Mickey Mouse Rainbow Love" hat. Elite Daily reached out Disney for comment but has not heard back at the time of publishing.
Even though Disney hasn't publicly announced that the rainbow Mickey ears are intended to celebrate the LGBTQ+ community, many fans of Disney are interpreting this red hat adorned with two rainbow-striped ears and an embroidered image of Mickey's hands around a rainbow heart as just that.
These new rainbow ears really are a great, colorful nod to the LGBTQ+ community, even if Disney hasn't officially confirmed that is what the ears represent. A Disney representative did report to Huffington Post that Disney likes to provide merchandise options that "appeal to guests of diverse backgrounds."
Disney fans who find themselves at either Disneyland or Disney World in the near future might have to hit a few shops before they find one with the "Mickey Mouse Rainbow Love" hat in stock (the hat has been flying off the shelves).
If your upcoming Disney trip is exclusively about finding a pair of rainbow Mickey ears, you should be able to find the "Mickey Mouse Rainbow Love" hat at all four theme parks in Disneyland, but there are some specific shops that might be your best bet for rainbow-ears success. Per Hornet, the shops with the largest quantities of "Mickey Mouse Rainbow Love" hats are in Disney World's Magic Kingdom, and they are: Emporium, Fantasy Faire, and The Chapeau Hat Shoppe on Main Street.
People who aren't able to make their way to the Magic Kingdom might have an even harder time trying to get their hands on these reportedly limited-edition ears. The rainbow Mickey ears don't appear to be available online through the ShopDisney store, but according to a Disney representative who spoke to Hornet, you might be able to order a pair of rainbow Mickey ears by phone.
It seems like getting your hands on these highly coveted rainbow Mickey ears might take a little bit of work on your part, but from all the photos people are sharing the of the ears, it looks like it will be totally worth it.
Seeing as though LGBTQ+ Pride month takes place in June, it does seem like perfect timing for Disney to release apparently Pride-inspired merchandise. Again, Disney hasn't yet confirmed Pride month as the reasoning for the arrival of rainbow Mickey ears, but LGBTQ+ Disney fans have been loving the new rainbow Mickey ears no matter what Disney's reasoning.
YouTuber, actor, and singer Joey Graceffa posted a photo on Instagram with his boyfriend, Daniel Preda, of their recent trip to Disneyland, and they are both sporting the "Mickey Mouse Rainbow Love" hats. Disney has amassed a large number of LBGTQ+ fans, and the parks have been home to long celebrated unofficial events like "Gay Days."
So, even though Disney hasn't officially designated the new rainbow Mickey ears as a celebration of Pride, Disney's Pride-filled fans are celebrating it anyway.