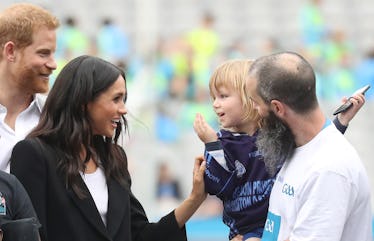 Meghan Markle Had The Cutest Interaction With A Tiny Fan & The Photos Will Melt Your Heart
Chris Jackson/Getty Images Entertainment/Getty Images
There's a new man in the Duchess of Sussex's life, you guys! And even though he's not a ginger, it kinda looks like Prince Harry, Duke of Sussex, approves! The royal couple was in Ireland yesterday for their second straight day of events, where they visited Croke Park to greet and cheer on athletes as a part of the Gaelic Athletic Association. And you have to see these photos of Meghan Markle playing with a child because they are legit the cutest thing I have ever seen and I swear they will melt your heart.
The little guy in question is three-year-old Walter Kieran, and the adorable, tow-headed tot seemed completely smitten with Meghan. TBH, I totally don't blame him. See, the Duchess had let her brunette hair down in loose waves after wearing it pulled back in a bun earlier in that day. She also changed into a black pantsuit with a white shirt and I'm totally digging the whole laid-back vibe she's working here. But it was her long, dark mane that struck little Walter's fancy, and he reached out to touch it, as well as Meghan's face! I know, it's a bold move. And guys, you should probably take note, because Meghan seemed like she was into it!
Look at her smiling! The whole thing was super-sweet, and Meghan even reached out and held little Walter's hand.
Of course, there's always the chance she grabbed his hand in order to stop him from touching her again but hey, let's just give her the benefit of the doubt here, OK?
The whole hand-holding thing is actually kind of ironic, given that royals aren't supposed to hold hands or show any type of PDA. I know, there are so many rules, it's hard to keep up with them all. Of course, the Duke and Duchess of Sussex aren't really ones for following rules — either real or implied — and they were already spotted walking hand-in-hand at Prince Louis's christening St James's Palace on July 9.
Aw, I seriously just love these two.
Meanwhile, back in Croke Park, the couple observed Gaelic games, including camogie, rounders, and the Irish field sport of hurling, which is played with a stick called a "hurley" and a ball called a "sliotar" that's similar in size to a field hockey ball but has raised edges.
They also did their first walkabout together in Dublin, where they stopped to chat with their adoring fans who cheered loudly, took pictures of the couple, and handed them flowers.
In addition, they toured Trinity College, where they visited the Old Library, which contains more than 200,000 books.
And they visited the Famine Memorial. Yes, those are stilettos Meghan is rocking on that cobblestone. And according to People, Meghan Markle handled the rocky terrain expertly as she walked around the statues and listened to speakers. Not gonna lie this woman is legit my hero!
Of course, my absolute favorite part of the couple's trip to Ireland was when they made friends with Ireland President Michael Higgins' dogs Brod and Sioda.
Meghan is a major animal lover. She has two rescue dogs named Guy and Bogart, so it's not at all surprising to see her take to these guys. And according to People, the Bernese Mountain dogs really took to her as well. When the couple walked to the garden, the pups ran over to them to be petted, and then reportedly stayed with them almost the entire visit.
I mean, just check out this lovefest:
Whether it's kids or dogs, I think one thing is clear: Harry's not the only one with a crush on Meghan!