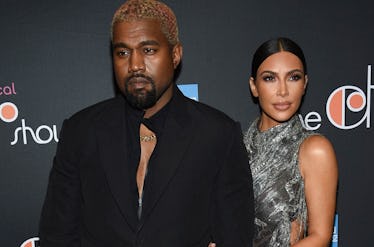 Kim K Went All In On The Campy Theme At The Met Gala, While Kanye West Said, "Nah"
Evan Agostini/Invision/AP/Shutterstock
It's that time of year again when every fashionable celeb hits the red carpet at the Met Gala! Held the first Monday in May each year, the Met Gala typically follows a specific theme that all the celebs attending abide by. The year's theme is "Camp," as in fashion that's ironic or so bad, it's good. In some cases, that even means over-the-top. With that in mind, you definitely need to see the photos of Kim and Kanye at the 2019 Met Gala. They fit right in with all the campiness of the evening (well, Kim does, anyway) and look amazing while they're at it!
Kardashian wore a nude beaded Thierry Mugler dress that made her look as if she had just ascended from the ocean. While it wasn't quite a mermaid look, it definitely had some of those vibes. Kardashian explained the idea behind the dress during a pink carpet interview with Vogue.
"This is the first time in 20 years Mr. Mugler has designed for the House of Mugler. So, to come and design this gown for me is such an honor," Kardashian told Vogue. "This is about eight months in the making … He envisioned me as this California girl stepping out of the ocean, wet, dripping."
You can check out Kardashian's very interesting look down below:
Kardashian's hubby Kanye West didn't exactly go for camp himself, but he seemed very comfortable in his skin and totally unbothered by all the wild fashion surrounding him. That's typical Kanye, though, right? If anything, he really let his wife shine and supported her while they walked the pink carpet, which is really sweet.
While chatting with Vogue, Kardashian also revealed that she loves the weeks leading up to the Met Gala because it gives her a chance to bond with her sisters over fashion. The best part of it all, especially after so much preparation, is when the the carpet part is over and done with.
"Once we're all at the top of the carpet we can all take a deep breath," she said before adding, "I don't know if I can in this corset. I honestly had to do practice. It's a proper corset by Mr. Pearl. I never had one like this, it is insane."
Kardashian puts in quite a lot of work to attend the Met Gala. The Keeping Up With The Kardashians star reportedly followed a plant-based diet to get her body in shape for the big night. Now that it's here, she told Vogue that she can't wait to have doughnuts.
"I have doughnuts waiting for me tomorrow morning, hot, fresh doughnuts," she said. "They are special ones from here vanilla with rainbow sprinkles."
Too cute! I'm sure she'll enjoy those doughnuts after so many weeks of eating clean and preparing for the Met Gala. All of Kardashian's hard work paid off, though, because she looked amazing in that dress! I'm sure she'll pull off another fantastic look next year. And hopefully, her husband will join her!