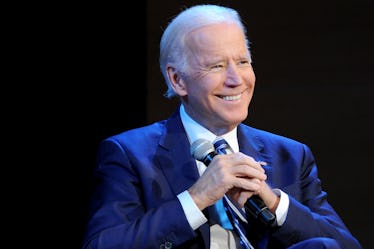 Joe Biden & His Newly Adopted Rescue Dog, Major, Look Like They're Already Besties
Craig Barritt/Getty Images Entertainment/Getty Images
President Barack Obama might want to watch his back, because it looks like former Vice President Joe Biden has a new best friend. A four-legged one, that is. After fostering a rescue pup named Major earlier this year, the Bidens officially decided to give him his forever home on Saturday, Nov. 17, and these photos of Joe Biden adopting a dog will seriously melt your heart into a puddle of puppy love. Seriously, though, I can't get over the fact that the onetime Veep and his furry bestie both look as if Christmas day came early in the pics, and neither can the rest of the Twitterverse.
On Saturday, Nov. 17, the Delaware Humane Association revealed that Joe Biden had made the decision to permanently adopt Major on Facebook, writing, "Today is Major's lucky day! Not only did Major find his forever home, but he got adopted by Vice President Joe Biden & Dr. Jill Biden! The Bidens have gotten to know Major while fostering him and are now ready to make the adoption official. Best of luck and thank you for being one of our Friends for life!"
After sharing the Biden family's official statement, which reads, "We are so happy to welcome Major to the Biden family, and we are grateful to the Delaware Humane Association for their work in finding forever homes for Major and countless other animals," and is signed by Joe, Jill, and Champ (Biden's other German Shepard) Biden, the shelter shared a few photos of the adorable Biden family addition that will make you completely lose it.
According to the humane society, Major and five other German Shepard puppies were brought to the DHA after their owner reported that they were exposed to a toxin in their home. Unable to pay for their treatment, their owner gave the pups to the Delaware Human Society where they received medical care to save their lives.
The group wrote in the comments, "Once we posted about them for your help, Joe Biden caught wind of them and reached out immediately. The rest is history!"
"It was such an honor for us to adopt a puppy to Vice President Joe Biden and Dr. Jill Biden," Patrick Carroll, the executive director of the Delaware Humane Association, said in an official statement about working with the Bidens through their adoption. "We make friends for life at DHA and we know that the bond between humans and their pets is incredibly strong. We have adopted thousands of animals into homes in Delaware, and we are happy to add the vice president and his family to our list."
Needless to say, the newest Biden already has a strong fan base online, and Twitter can't get over the fact that Major is basically the same being as Biden, just in pup form. You know, especially considering that they're sporting identical expressions in one of the photos.
It's impossible to deny that the pair already look as thick as thieves, and something tells me that Major already has the presidential stamp of approval from his godfather Obama. I mean, who can resist that face?
President Obama has yet to comment on Biden's newest family member, but I wouldn't be surprised if Biden and the furry pooch eventually make a cameo on his Instagram for the ultimate #BromanceGoals shot.